Microsoft held its official launch event this morning for Office 2010–the latest release of its dominant office productivity suite. Some of the new elements of Office 2010 make the suite more Web-enabled, while recent changes to Google Docs make it more "Office-like", setting the two up for head-to-head battle.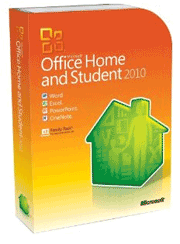 Microsoft, with 25 years developing office productivity suites for the desktop, represents the traditional model of locally-installed software on each system. Google, on the other hand, is the upstart challenger in the office productivity arena, and represents the cloud-based, collaborative approach to office productivity.
Microsoft, aside from the standard developmental evolution and new features one might expect in a new release of the Office productivity suite, has also added scaled-down Web versions of Word, Excel, PowerPoint, and OneNote to enable online access and productivity similar to Google Docs.
For its part, Google recently made some changes to improve Google Docs. The primary updates to Google Docs revolve around making the apps more responsive and improving the real-time collaboration capabilities–a strong suit of Google Docs. However, Google also claimed "The new technical foundation also helped us improve document formatting, which means better import/export fidelity, a revamped comment system, real margins and tab stops, and improved image layout within documents."
Microsoft is quick to point out the flaws, though, in Google's claim that Google Docs is somehow a perfect complement to Office and can be used seamlessly in combination as a more affordable option than Office 2010. Alex Payne, a director of the online product management team for Microsoft, points out in a blog post that "charts, styles, watermarks, fonts, tracked changes, SmartArt, etc. (can be a pretty long list) might be gone or manipulated in a way resulting in something that doesn't look like it did before conversion."
I did some quick testing of how the two work together. First of all, Google Docs limits the file size for uploads to 1mb. Granted, that is plenty for most office productivity files, but large docs, or multimedia presentations may quickly exceed 1mb, making it impossible to upload and work with the files in Google Docs.
I uploaded a lengthy Word doc, complete with a variety of formatting options and was less than impressed with how it renders in Google Docs. Technically speaking, the text was there, and I was able to edit and work with the file, but the visual aesthetics of the doc were completely jacked.
I made some changes, then re-imported it back to Word and found that my impression didn't get any better. My nicely formatted and visually appealing Word doc now looked exactly as it had on Google Docs. The Table of Contents was converted to some rudimentary looking list of links, and the footnotes–which were previously at the bottom of each page where they were referenced–were now collected all together at the end of the document.
I tried coming at it from the other direction. I created a new doc in Google Docs, and then added some more advanced formatting such as footnotes. I am not a fan of the way the footnotes are portrayed in Google Docs–as a little pop-up box on the side of the document display.
However, it was worse when I exported it to Word and instead got a separate page titled "notes". With all of the claims of improved document fidelity and seamless integration, it seems odd that Google Docs isn't even consistent about the way footnotes are rendered when exported from Google Docs to Word.
Don't get me wrong. Google Docs does a number of things–particularly real-time online collaboration–better than the Office Web Apps, and Microsoft certainly has room for improvement on its first venture into Web-enabling its Office suite. But, trying to work with Office 2010 and Google Docs together is just a dysfunctional culture clash that actually creates more work in trying to recreate the doc each time its migrated from one to the other.
Those who use Google Docs as their primary office productivity apps–and don't need all of the additional features and capabilities found in Office 2010–should just continue happily using Google Docs. Those who rely on Microsoft Office, but also want to be able to work from the Web, should stick with the Office Web Apps.
Google Docs is a perfectly capable alternative for companies focused on cost–a poor man's Office. It will fill the role admirably for many SMB's, but the lack of control and potential compliance and security concerns of data stored in the cloud may deter larger corporations from taking Google Docs seriously.
The bottom line is that Google Docs is not a threat to Microsoft Office, and won't be any time soon. The two represent completely different operational cultures, and Microsoft has a comfortably dominant stake in the office productivity market.
You can follow Tony on his Facebook page , or contact him by email at tony_bradley@pcworld.com . He also tweets as @Tony_BradleyPCW .