A year after Sprint misfired with the Palm Pre, the carrier is looking to launch a genuine hit with the HTC Evo 4G. The Android phone will go on sale June 4 for a quite reasonable $200. I've already given breathless coverage to the HTC Evo 4G's technical prowess, so instead of rehashing cool features like its 4.3-inch screen and front-facing camera, let's go over the pros and cons of what we know about the phone.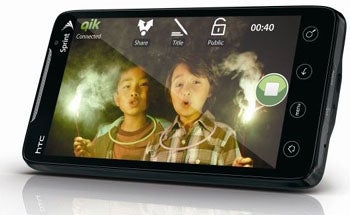 Hot: Those Who've Tried It Love It
There's no lack of enthusiasm for the HTC Evo 4G in the early hands-on impressions I've read around the Web. Phandroid said it's "awesome." Engadget said it's "frankly breathtaking." Boy Genius Report summed up its experience with one word: "wow." All of this bodes well for high-scoring reviews.
Not: Android 2.1
Android 2.1 is fine, but Android 2.2, with support for Flash 10.1, would've been the icing on the cake. I've read some rumors that Evo 4G will be second-in-line for Android 2.2, after Google's Nexus One, possibly in June. So this "Not" could turn "Hot" if there aren't any Droid-like snafus.
Hot: An unbelievable price
The HTC Evo 4G's $199 asking price should give pause to anyone who's been thinking about getting a Droid Incredible (or an iPhone, for that matter). Both phones cost the same, but the Evo 4G has a bigger screen, HD video capture, a front-facing camera and — maybe I'm the only person who absolutely love this — a kickstand. And of course, it's 4G-friendly, which brings me to …
Not: Mandatory 4G
If you don't live in one of the 27 cities with WiMax, or the additional 15 coming on line this year, you'll still have to pay $10 extra for 4G coverage, bringing the total monthly cost to $80. The silver lining? Sprint's plan includes unlimited text, data, and calls to any U.S. mobile phone, and it's only $5 more than the most basic smartphone plan with Verizon or AT&T.
Hot: Totally reasonable off-contract price
As nice as the HTC Evo 4G looks, it won't be long before better Android phones arrive, at least that's what history teaches us. For smartphone junkies, the Evo 4G is $450 off-contract — not bad considering the Nexus One costs $529, the Droid costs $560, and the 16 GB iPhone (which also sells for $200 on-contract) costs $599 unsubsidized.
Not: No 4G? No Battery
Phandroid notes that if you wander out of 4G coverage, the HTC Evo 4G's battery will drain in a hurry, so you'll have to switch off 4G manually whenever you roam. Also, battery life in general remains a mystery, as Sprint has been reluctant to provide hard numbers. Pray that battery life isn't the Evo 4G's Achilles heel.