At a Glance
Expert's Rating
Pros
Strong performance for the category
Attractive chassis
Cons
Missing advanced interface connections
No touchscreen
Our Verdict
Though it lacks a touchscreen, HP's All-in-One 200 offers excellent performance for the category, and a lush display.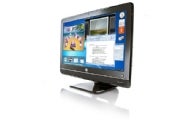 Touchscreens are a fairly big deal in the all-in-one desktop category, and when we come across models like HP's All-in-One 200 that lacks such a screen, we tend to get a bit antsy. Apple's offerings have proven that you don't need a touch-friendly display to excel on our chart of the Best Big Screen All-in-One PCs (screen sizes over 20 inches). Still, most models in the category these days offer multitouch, and you just can't help but want to reach out and touch a screen this attractive.
Despite the lack of touch functionality, the 21-inch HP All-in-One 200 ($780, as of 5/1/2010) makes a compelling package (check out our video review). Armed with a 2.7GHz Pentium E5400 processor, 4GB of DDR3 RAM, and Windows 7 Home Premium (64-bit), the All-in-One 200 earned a score of 104 on our WorldBench 6 test suite.
By comparison, Sony's Vaio L117FX/B and Gateway's One ZX6810-01 offered up a score 105. While these all pale in comparison with Apple's Core-i7 powered, 27-inch behemoth (it scored 128), the All-in-One 200 finds itself in very good company. For storage, HP included a 500GB hard drive–a generous amount, but the rest of the category has moved up to the 1TB range.
While general performance was on a par with the category's leaders, the All-in-One is saddled with integrated rather than discrete graphics, and as a result could not deliver playable frame rates on our Unreal Tournament 3 benchmark, at any resolution or quality setting.
The All-in-One 200 offers a fairly standard complement of interface connections. A pair of USB ports and a multiformat card reader are on the left side of the chassis, with five more USB ports on the rear. On the right side of the machine are the DVD burner and the brightness controls–a rather handy addition.
Missing are advanced connections like eSATA or FireWire, and extras such as an HDMI port would have been nice. The machine does offer 7.1-channel surround sound, which should make it easier to slide into your home theater setup. The audio quality of the built-in speaker bar isn't bad. While the sound might not fill an entire room, it is suitable for smaller spaces. If you're looking for proper bass, you'll still want to pick up a serious pair of speakers, but as it stands the audio quality is good enough.
The most important feature of any all-in-one PC is, of course, its display, and HP here offers a strong contender, with a native resolution of 1920-by-1080 pixels, making it just right for 1080p high-definition content. Video playback was stutter-free, with no motion blur noticeable on action-oriented test content.
Color reproduction on the LED backlit screen is nice, and details are preserved pretty well, without fuzziness or distortion, as we saw in a test image of white flowers arrayed against a white background, for example. The screen remains viewable from all but the most extreme angles, with no noticeable screen glare under standard fluorescent lighting.
As far as extras go, the All-in-One 200 has no real surprises. The bundled mouse is comfortable, but plain. The keyboard is standard HP fare, and comfortable enough to type on. It offers media playback controls by way of a function key, and has dedicated volume buttons. Both peripherals are wireless, which is always appreciated in the space-conscious all-in-one category.
The All-in-One 200's Webcam is less impressive, and likely won't be adequate for users looking beyond YouTube's standards. During our testing the microphone picked up quite a bit of background noise, and the video itself–even at the best quality settings–was fairly grainy.
There's a lot to like here: an attractive, space-saving chassis, strong performance, and a good 21-inch display. It might lack some of the features of comparable 23- and 24-inch models, but extras like a 1TB hard drive and a Blu-ray player would likely have pushed this machine well it out of its sub-$1000 price range. As it stands, if you're still not sold on Windows 7's touch functionality and want a fairly spacious screen (without paying a bundle for Apple's offerings), HP's All-in-One 200 is a great value.