As you undoubtedly know, you're supposed keep your files backed up, your applications up-to-date, and your antivirus software current. Unfortunately, you are–to speak frankly–too lazy to do these tasks as thoroughly and regularly as you should, and too cheap to shell out for add-ons that would do it for you automatically. How do I know? Because…we have a lot in common.
But we don't have to reinvent ourselves to get things under control. Here are a few tricks you can use to keep up on your basic PC maintenance without breaking a sweat.
Ditch Windows XP
If you still use Windows XP, your operating system expects you to perform a few more maintenance tasks than later Windows versions do.
Defragmenting your hard drive, for instance, is automatically scheduled in Windows 7 and Vista but has to be done manually in XP (right-click the drive name in My Computer, select Properties, Tools, and choose Defragment Now).
Regrettably, Windows 7 isn't free–Home Edition costs $100 at this writing–and though it's the best Microsoft OS I've ever used, it might be out of your price range. Also, if you're on an older PC, slogging through the upgrade process might not be worth it (though we have plenty of Windows 7 upgrade tips if you want to give it a shot).
On the other hand, defragmenting a 1TB hard drive doesn't yield the same performance benefits that performing the same operation on a smaller, slower hard drive used to provide–and those performance benefits were fairly minor to begin with.
So, assuming your PC is recent enough to read this article, you'll probably be okay putting off defragging.
Lazy Backups With Dropbox
We have plenty of great how-to articles explaining different backup strategies and backup plans; but if external drives and thoughts of drive images make your eyes glaze over, they won't help. Instead, think about what you have on your PC that you'd miss if you lost it.
For example, if you have irreplaceable photos on your PC that you need to back up, but you don't want to spend the time or money required to back them up to a DVD or external drive, consider storing them in a Flickr account, a Picasa Web album, or even a Facebook album.
All of those options are free (though some services will charge for storage or monthly upload bandwidth beyond a specified limit), and they all have auto-upload functions to keep your photo backups going. Picasa users can do this automatically with Picasa Web Albums, while Flickr and Facebook users should check out Foldr Monitr for Flickr and LiveUpload to Facebook.
When it comes to documents, the main items I want to back up are my work-related documents (old article drafts, mostly), so I don't need to buy terabytes of storage. In fact, I don't even need to buy a USB flash drive. I simply signed up for a Dropbox Basic account–which gives users 2GB of free online storage–and copied my whole Work Stuff folder over to it.
That doesn't always work, however, because I have a handful of high-res image files scattered among the Word docs, and they would eventually use up all of the space in my free Dropbox account. Rather that shell out $10 a month or so to increase my space allotment, I periodically do a quick search for every Word file on my hard drive (by searching for *.doc) and drag the files into a new folder on Dropbox.
If you have other folders on your hard drive that you want to sync with Dropbox without relocating it, simply grab Dropbox Folder Sync. Also, since Windows treats Dropbox as it would any other folder in its file system, you could create a batch file with some basic DOS commands to automate that search and copy process.
Automatically Update Everything
You may not care enough about bug fixes and minor features to keep every single app on your hard drive current, but you'll need to keep Windows and a few major apps (such as your browser, your PDF reader, and your office suite) updated to avoid nasty security exploits. Fortunately, you can arrange to have all of these updated automatically.
Start by opening Windows Update in the Control Panel. Click Change settings, and set the drop-down menu to Install updates automatically. If you don't have Microsoft Update installed, only Windows updates will download automatically; so if you have other Microsoft apps installed (anything from Silverlight to Office) you'll need Microsoft Update. To pick it up, click the Click here for details link at the bottom of the Windows Update window.
Every major browser has an automatic updating function of some sort, so your browser should already be covered. Microsoft delivers Internet Explorer updates via Windows Update, and Google Chrome receives its updates behind the scenes; to see whether your version of Chrome is current, click the wrench icon and choose About Google Chrome; if your version is old, the dialog box should give you the option to update.
Like Chrome, Firefox handles its updates internally. You can ensure that you'll get the latest releases from Mozilla by opening Tools, Options, Advanced, Update, and checking Automatically download and install. Safari's updates are handled via Apple Software Update, which normally is installed with Safari. If it doesn't run automatically, open it and go to Edit, Preferences, Schedule, where you can select your preferred update frequency.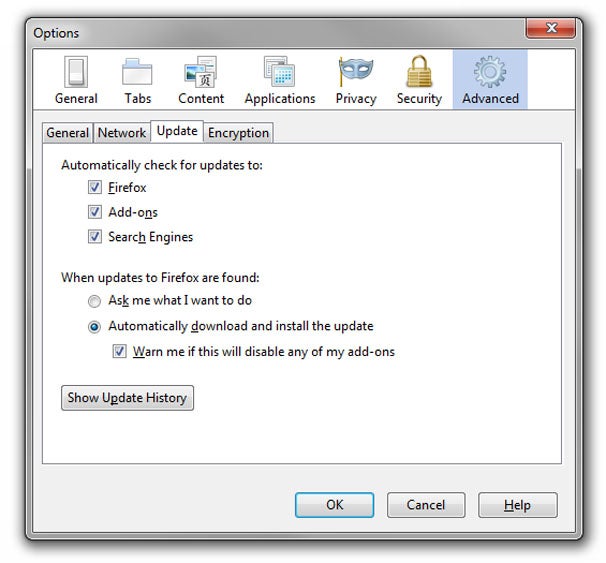 Next, you'll want to keep Adobe Acrobat updated, because it's a popular target for malware. You can set it to update automatically by selecting Edit, Preferences, Updater and checking Automatically update and install.
Also, go to JavaScript (on the left-hand side of the Preferences window) and uncheck Enable JavaScript. Since JavaScript is a common attack vector for malware, you're system will be safer if you don't have it enabled by default (you can always re-enable it for individual PDFs that you deem nonthreatening).
At this point, all of your most critical apps are set to update automatically. But why stop there? Get the FileHippo.com Update Checker, a free app that will scan all the apps on your PC, check their versions against its database, and point you to download links for all the apps that need updating.
No-Fuss Antivirus
One of the things you can't afford to procrastinate about is your antivirus software. If you don't already have an AV program installed, check out our ranked chart of Free Antivirus Software and the associated article ("Can You Trust Free Antivirus Software?").
Each of these suites should have its own automatic update functions in place; they are essential for keeping your system armed with the latest malware defenses. Since Microsoft's own Security Essentials updates via Windows Update, you won't need to configure anything else.
As long as you have a decent antivirus suite, you don't need to put much additional effort into staying safe–just don't click dubious links or open questionable attachments. Also, make sure that your e-mail client doesn't automatically display external images (Gmail takes this precaution by default; to re-enable the option temporarily, go to Settings under the General tab), and plug links into Google before clicking them, to confirm that they're legit.
To verify shortened URLs (generated by bit.ly, TinyURL, and such) before clicking them, grab the Untiny Greasemonkey script to verify them before clicking. We have plenty of other tips for business users and consumers alike in "Enterprise Security Tips on a Small-Business Budget."
Have your own tips for dealing with PC maintenance chores? Post them in the comments!