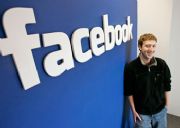 Facebook has been in the news an awful lot lately–what with its new privacy controls (or, um, lack thereof), its early controversies, and its recent "privacy summit."
The most recent spate of Facebook-privacy-issues (this is certainly not the first time Facebook has been lambasted for its privacy concerns) has created somewhat of a backlash–from individual users binding together to permanently delete their accounts, to U.S. Senators asking the social networking giant to revise its privacy rules, to the European Union labeling the latest privacy changes "unacceptable."
All that said, it's not terribly surprising that an alleged chat transcript that reveals Facebook founder Mark Zuckerberg's early perspective on privacy has surfaced.
Silicon Alley Insider has posted the transcript of an instant messenger exchange that allegedly took place between Mark Zuckerberg and a college friend, shortly after Zuckerberg launched "The Facebook" from his Harvard dorm room:
Zuck: Yeah so if you ever need info about anyone at Harvard
Zuck: Just ask.
Zuck: I have over 4,000 emails, pictures, addresses, SNS
[Redacted Friend's Name]: What? How'd you manage that one?
Zuck: People just submitted it.
Zuck: I don't know why.
Zuck: They "trust me"
Zuck: Dumb *****.
Silicon Valley Insider points out that Zuckerberg was only 19 at the time of the alleged conversation, and that the remarks are completely without context (i.e. it's very possible that Zuckerberg was simply joking around with a friend).
Facebook issued a statement in response to the alleged transcript, which is as follows:
"The privacy and security of our users' information is of paramount importance to us. We're not going to debate claims from anonymous sources or dated allegations that attempt to characterize Mark's and Facebook's views towards privacy.
Everyone within the company understands our success is inextricably linked with people's trust in the company and the service we provide. We are grateful people continue to place their trust in us. We strive to earn that trust by trying to be open and direct about the evolution of the service and sharing information on how the 400 million people on the service can use the available settings to control where their information appears."
Facebook says nothing about whether or not the transcript is real, and simply calls the allegations "dated."
Of course, if the transcript is real, it doesn't really tell us anything we may not have already assumed. Zuckerberg is notoriously cavalier about privacy, and has stated that the "social norm" of privacy has simply "evolved over time" (basically, "privacy no longer exists…deal with it"). Facebook is also aggressive to a fault about implementing its site-wide privacy changes, preferring to "just do it" and then roll back in accordance with the inevitable backlash.
What we should note is that Zuckerberg's attitude toward Facebook is not at all out of the ordinary for his (my) generation–most kids brought up with the internet scoff at the idea that sharing pictures and info on the web might be considered a big deal.
That said, there are still a lot of dangers associated with letting it all hang out on the 'net–and Facebook is no stranger to hackers.