As complaints about Facebook continue to pile up to epic proportions, its competitors are receiving glittering press, financial support, and spikes in site traffic. Is this a signal that the Great Facebook Exodus has begun, and can the trend maintain momentum?
A Waking Nightmare
So much has been written about Facebook's problems with privacy that it's hard to know where to start. The gist is that Facebook committed great blunders and the public spanking began. Reports suggest its user retention might have dropped somewhere between 25 and 48 percent due to fears that not a single morsel of our privacy on Facebook is protected. To defend itself, Facebook drew sabers and built walls, but even amid those efforts, the public is angry and the red-faced hate-spew isn't likely to cease anytime soon.
Diaspora: Up and Coming Competition
The New York Times profiled "four nerds" behind the new anti-Facebook: Diaspora, which touts itself as "the privacy aware, personally controlled, do-it-all distributed open source social network."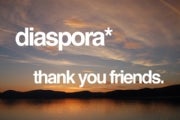 "We think people's privacy and personal control is in jeopardy more than ever online, and every day we hear about more and more of our peers who say that Diaspora is something that they want and need," the group blogged.
Hosted by Kickstarter, a crowdsourced fundraising organization, Diaspora has surpassed its goal of collecting $10,000, and did so in less than two weeks. As of yesterday, Diaspora has garnered $90,000 from more than 2,100 backers, and that number continues to blossom.
Though the site won't be launched until sometime this summer, Diaspora looks like it'll be a hit — for now. We need to wait and see what Facebook does about the thorn in its side before making any rash judgments about the future of the Goliath of social networking.
The Quiet Guys See a Rise
Hey, did you know there are other, preexisting social networking sites? Oft-forgotten, these underdogs are witnessing dramatic spikes in site traffic. In the past month, Orkut.com saw a 63 percent rise in traffic with over 1.2 million unique visitors. This is an almost 150 increase over the last year.
Other sites aren't faring as well: Friendster dropped 5 percent; Bebo.com dropped 4 percent; and hi5.com, despite having more unique visitors than Orkut, still dropped. So what's Orkut doing? (And what is Orkut anyway?)
While Facebook's growth rate far exceeds any of its competition, those figures could change as media scrutiny intensifies.