Remember Chrome OS, Google's stripped-to-the-browser operating system? It's reportedly ready for prime time, with Chrome OS devices from Acer leading the way.
Acer will launch some kind of Chrome OS hardware in two weeks, at the Compudex Taipei trade show, according to VentureBeat's unnamed sources. The report doesn't say what kind of devices will be revealed — Acer previously said it would be first with a Chrome OS netbook — but netbooks, smartbooks and tablets are all possibilities. It's also not clear when the Chrome OS products will actually ship.
Google demonstrated Chrome OS in November. If you've ever used the Chrome Web browser — or any Web browser for that matter — you've got a pretty good idea of what Chrome OS is like. It's a glorified browser, with app icons linking to Web sites, and very little in the way of local storage. The idea is that most people spend most of their computing time on the Web, so why not throw out everything else and concentrate on that? (Click on the image for a closer look at the Chrome interface.)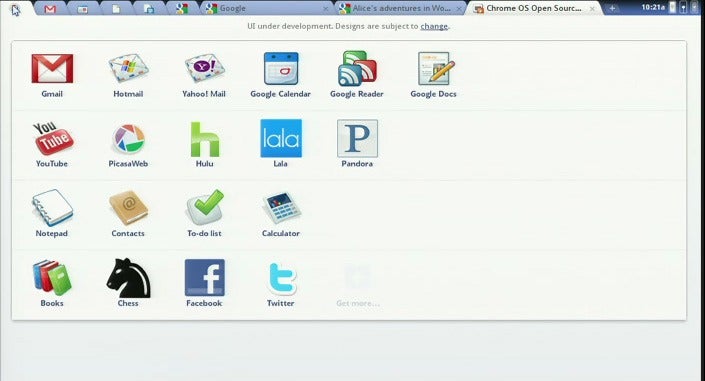 A June teaser of Chrome OS devices fits nicely within the timetable that Google announced last year, but it still feels like ages since we were debating the merits of such an operating system. So much has happened since Google demoed Chrome OS, in both software and hardware, that it feels like the original vision for a fast, light and secure operating system is no longer such a mind-blowing idea.
For instance, Apple launched the iPad in April, and hardware makers are scrambling to compete with their own tablets. The iPad turns on instantly and flies through the Internet, which is exactly what Chrome OS wants to do, and it does lots of things offline as well.
Then there was the rise of Android, which last quarter beat Apple's iPhone in sales share for the first time. Android seems like an ideal tablet OS, as its app marketplace would scale up nicely and hook the people who already own Android phones.
Meanwhile, debates abound on whether the netbook is dying. I don't think the evidence supports an imminent death of netbooks, and in any case the line between netbooks and small laptops is increasingly blurry. Still, a Chrome OS netbook doesn't seem as cutting-edge as it did last November.
Where does that leave Chrome OS? An instant-on smartbook with killer battery life could be fun, but the important thing is that the Web-based operating system arrives, period. I think of Chrome OS as an experiment, a look ahead to when fast Internet connections are always available, and when Web apps can truly replace native software. We're not there yet, but I'd love to see what it's like.