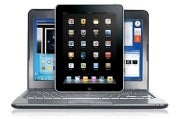 Is the stunning success of the iPad cutting into Apple's Mac sales? One leading Wall Street analyst says no, but another industry watcher says it's too early to tell.
Piper Jaffrey analyst Gene Munster, after reviewing new data from market research firm NPD Group, believes the iPad isn't harming Mac sales, although it might be contributing to a decline in iPod purchases, Fortune reports.
Mac sales are up 39 percent in April 2010 versus the same month in 2009, according to a new NPD Group survey of U.S. consumer sales. Conversely, iPod sales fell 17 percent in the same year-over-year period. NPD doesn't release estimates of the numbers of units sold.
Dueling Analysts
Munster sees the survey as mostly good news for Apple. "From the early NPD data, it appears that the iPad has a minimal cannibalization impact on Mac sales, and could be slightly cannibalizing iPod sales," he wrote in a research report.
Hold on a minute, says NPD Group analyst Steve Baker.
"It's way too early to see what long range impact on MacBook is going to be from the iPad," Baker told PCWorld in a phone interview. "I think it's unlikely that you would have an answer on that in the first month of product release of the iPad, especially in a month where you came out with new Macbooks."
Indeed, April was a busy month for Apple. The Wi-Fi-only iPad arrived in stores on April 3, and a new series of MacBook Pros debuted later that month. The iPad 3G became available April 30.
"With Apple, there's a huge (sales) spike in the first month or six weeks after product introduction," says Baker, who points to the unwavering devotion of Apple's fan base. "Certainly with the iPad, you had an even longer spike because of the staggered release. And then you had new MacBooks at the same time."
It's "pretty dangerous to make those assumptions" about the iPad's impact on Mac or iPod sales, he added.
Studies conducted by NPD Group and other marketing firms before the iPad's release show that most consumers see the iPad as an additional computing device, not as a replacement for a laptop or desktop computer.
"If it was going to replace something, it would most likely be an iPod touch," adds Baker.