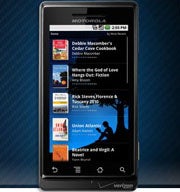 Friends, readers, Kindlemen: Allow me to pose a question. If you could get digital books on the smartphone you already carry, would you still buy a dedicated e-reader?
That's the question running through my mind after hearing that Amazon is developing a Kindle app for Android. The upcoming Kindle for Android app is set to hit smartphones this summer.
Amazon's pegging the app as a "companion" to its Kindle e-reader device — buy a Kindle, the company says, then use your phone to extend its reach — but I'm not so sure. For most casual users, is it really worth doubling up on devices?
Amazon's Kindle for Android: The Next Step
Now, Amazon's Kindle for Android app is far from the first e-reader-independent digital book application. There's Kindle for iPhone, of course, and then a program on some quietly launched device called the iPad (I haven't seen much coverage about this so-called "iPad" apparatus, but apparently it has a book-reading app of its own).
Amazon bringing its own software to Android, though, extends the reach of the mainstream book reading app even further. We all know about Android's growing grasp on the smartphone market. With the debut of the Kindle for Android app, even users who are set on sticking with the Kindle brand can get their e-book fixes without ever putting down their phones.
The actual Kindle device clearly has a decent amount to offer over a smartphone, most notably its eye-friendly E Ink display. And that's certainly worth something. But is it worth enough to convince you to plunk down a few hundreds bucks and then lug around an extra gadget everywhere you go?
Smartphone users these days are using data more than anything — even voice calls — and the convenience of condensation holds a powerful allure. After all, why annoy your friends and family with two devices when you can do it just as easily with one?
The Kindle Competition
The real threat to Amazon's e-reader sales may not be limited to its own Kindle apps; it may be the proliferation of book-reading apps in general. The Kindle brand will soon be competing not only with Apple's iBooks program but also with upcoming competitors like Google's cloud-based Editions bookstore.
I'm not suggesting current Kindle users are about to rush out and dump their devices for phone-based alternatives. But I am suggesting it's going to become increasingly difficult to persuade new users to double up on devices when they can get similar functionality on something already in their pockets.
The Kindle's strongest selling point over any smartphone or tablet is its E Ink screen. It's going to be interesting to see whether that point is strong enough to convince people to keep picking up e-readers in addition to their shiny new smartphones.
JR Raphael is a PCWorld contributing editor and the co-founder of eSarcasm. He's on Facebook: facebook.com/The.JR.Raphael