The fourth beta of the iPhone 4.0 OS hints that AT&T might finally enable Internet tethering, after the carrier failed to activate the feature for almost a year since Apple introduced the capability.
On Tuesday night, Apple released to developers another beta of the upcoming iPhone 4.0 OS (the fourth beta, for those keeping count). Developers with access to the program quickly started to report on the various new features they found–most significantly AT&T tethering.
Internet tethering capabilities let you share your phone's Internet connection with your laptop via Bluetooth or USB. The iPhone received this feature last summer, with the introduction of the iPhone OS 3.0. But AT&T has not enabled the feature for its U.S. users, as this is believed to over-tax the carrier's network.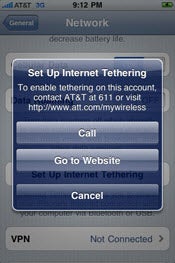 However, the wait could soon be over. A developer spotted a new configuration page for Internet tethering (pictured, via MacRumors) in the latest iPhone 4.0 beta. This page tells AT&T customers that they need to contact the carrier or go on its Web site to activate the feature.
It is widely believed that this popup message is a clear indication that AT&T is about to enable iPhone tethering. International iPhone users see a similar message when they want to enable tethering on their iPhones, with their respective carriers' details.
For the lucky overseas iPhone users who can get tethering, the feature doesn't come free. Carriers are charging for Internet tethering as a bolt-on to regular contracts, and it can cost up to $15 extra per month for 3GB of data (30 cents per additional MB).
But not everyone thinks that AT&T will enable tethering on the iPhone this summer, when the final iPhone OS 4.0 is delivered. Alexander Vaughn of AppAdvice writes that the tethering popup in the latest beta is just a glitch. He argues that a carrier setting update is how your iPhone can tell if a specific carrier supports tethering and act accordingly, without the need for a firmware update.
Developers also found some other changes to the latest iPhone OS 4.0 beta, such as default folder for utility apps (Clock, Calculator, Compass, and Voice Memo), new wallpapers, group messaging options, and orientation lock for the Camera Roll. The previous (third) beta of iPhone OS 4.0 also revealed orientation lock capability and basic iPod controls in the springboard.
Apple CEO Steve Jobs demoed in April some other significant iPhone OS 4.0 features coming this summer, such as multitasking, folders, a game center, and an iBooks app.