The iPhone OS 4.0 isn't expected to unveil until sometime next month — possibly coordinated with the release of the fourth-generation iPhone — but a glimpse of the beta reveals a number of features iPhone owners will be pleased hear are on the way. Here's a breakdown of the features likely to be rolled into the iPhone OS 4.0, beta 4.
Tethering
Yes, data tethering from AT&T looks like it'll be making an appearance on the iPhone. Finally. This feature is already available on iPhones overseas, and comes with a $15 extra per month charge for 3GB of data (30 cents per additional MB). This is plopped on top of your $30 per month unlimited data plan.
The Home Screen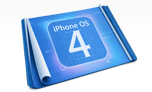 Apple will allow more customization and space-management features on the iPhone home screen. Those occasionally obnoxious apps you can't delete — such as the clock, weather and stocks — are now clustered together in one button: utilities. This ought to give you space for other, better apps.
Also, you can now change the backdrop so it's not a stark black screen, but rather an image from a set of preordained wallpaper patterns.
Messaging
There are a slew of new options for messaging as well. You can now:
Show preview
Repeat alert
Toggle MMS and group messaging
Toggle subject field viewer
Limit character count
Speed Freak
Gizmodo found that the apps and utilities were also much speedier than previous iPhone models. This is to be expected, given that the 3GS model boosted the speed from the 3G model — it only makes sense that, using the iPad processor, the 4G iPhone will blow your hair back. Also gone is the "odd silent pause" upon picking up a phone call (not that anybody calls anymore).