To find out which tech retailers give consumers the most for their money, PCWorld researchers and editors spent several months in the field, on the phone, and on the Web checking the stores and Websites out.
(See the box of links at right for the other categories we looked at, and for a description of our methodology for choosing the winners and losers in each category.)
Let's start with laptops:
The Winners in Laptops
In the laptop category, Amazon.com emerged as the clear winner for laptop buyers, with Best Buy tying for second.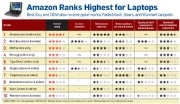 Prices for the laptops we targeted were similar at the stores in our test group. The prices at Newegg were often a bit lower than average, while Amazon and Walmart tended to have slightly higher prices. Price differences varied from model to model, however, and variables such as shipping costs and taxes made comparisons even more complicated.
Best Buy and Staples may be the best places to start looking if you aren't sure of what you want. The salespeople at those two retailers were leagues ahead of the others in their knowledge of various laptop models and their included technology. Identify the features you want and the tasks you need done, and the people at Best Buy or Staples will at least point you in the right direction.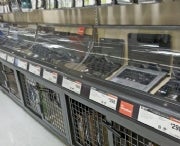 Sears doesn't carry laptops in its physical stores, so we couldn't fairly expect staffers to answer questions about them; RadioShack and Walmart reps were generally not well-informed about laptops.
Our in-store shopping venture at Target confirmed the need to do your re­­search before you arrive. At the store we visited, the absence of information cards for the PCs and of a knowledgeable staffer to discuss finer points of the two relevant models that the store carried left us feeling adrift.
Shopping Advice
After spending a little hands-on time in the store with a laptop you like, check online to see whether a reputable online store offers that model at a lower price. You may find a nearly identical laptop online that costs less, or you may be able to add one or two minor features that will suit your needs even better.
Hands down, Amazon had the broadest array of laptops of any online retailer we examined–an advantage strengthened by the site's useful, easy-to-find reader reviews and ratings. But after you visit Amazon, take a look at online stores that specialize in electronics, like CDW, Newegg, and TigerDirect. They can't match Amazon's selection, but they do offer plenty of choices, and they make it easy to narrow down your choices to the laptops you're most interested in.
The Sears online store lists a huge se­­lection, but third-party vendors fulfill most of the laptop offerings. Worse, shopping on the Sears site is a nightmare: Accessories such as replacement LCD screens, batteries, and luggage are interspersed with the laptop search results, forcing you to wade through a flood of irrelevant content.
Don't forget to check the online stores for Best Buy and Staples, too. They carry a host of models that aren't on display in the brick-and-mortar stores. Often you can avoid a shipping charge by buying a system online and having it shipped to a local store for pickup; and if you later have a problem with the laptop, you can return it to the store nearby instead of shipping it back to the company's warehouse at your own expense.
Products We Shopped For and Test Questions We Asked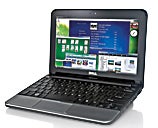 We asked each store about the availability of four laptops: the Asus Eee PC 1005HA, the Dell Inspiron Mini 1012, the HP Pavilion dv6 (model 2190us), and the Toshiba Satellite U505-S2005.
Here are the test questions we asked the retailers' sales associates (along with the correct answers we were looking for) for the laptops category:
Q: I plan on watching a lot of videos online. What will I need for my laptop to make this happen?
A: You need an nVidia or ATI graphics card or one of the newest Intel processors, and you need to download the latest version of Flash.
Q: How does an LED backlit screen differ from a regular LCD-type laptop screen?
A: The LED screen saves power and may have better color and contrast, but you don't need to insist on one unless you especially like the way it looks.
Of Related Interest
See "Technology's Most (and Least) Reliable Brands"–our annual reader survey of reliability and service for tech products, including laptops.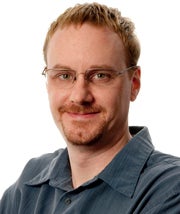 Senior Editor Jason Cross is a member of the PCWorld Reviews staff, where he covers laptops and netbooks. Follow him on Twitter @jasoncPCW