Is the "Everybody Draw Mohammed Day!" campaign on Facebook a celebration of freedom of speech, or a thinly-veiled attempt to offend Muslims? Whatever your take, the latest Facebook fracas certainly has generated a firestorm of controversy and quickly grown into an international incident.
On Wednesday a court in Pakistan ordered the government to force that nation's Internet service providers to block access to Facebook, the most popular social networking site in the world, and one with a large following in the mostly Islamic nation. The Los Angeles Times is reporting that Facebook was shut down in Pakistan's capital city of Islamabad as of early Wednesday evening.
Censorship Protest
"Everybody Draw Mohammed Day!" is an anti-censorship event slated for May 20. It was conceived last month by Molly Norris, a Seattle-based cartoonist, who was upset when U.S. cable network Comedy Central decided to censor a "South Park" episode that depicted the Prophet Muhammad in a bear suit. The episode had already run earlier this year.
An Islamic extremist website called RevolutionMuslim.com posted menacing remarks suggesting that "South Park" creators Trey Parker and Matt Stone could suffer the same fate as Dutch filmmaker Theo Van Gogh, who was murdered in 2004 after producing a film about the mistreatment of women in Islamic society.
In an interview with Fox News, Norris, who has since distanced herself from the Facebook campaign she created, said she's glad her endeavor has gone viral. "I just thought that Viacom or Comedy Central had overreacted to a veiled threat from a tiny blog or website that not many people even belong to, and I think it just set a precedent for a slippery slope in censorship," she told Fox.
Facebook Firestorm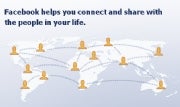 As of 2 p.m. (US Pacific) on Wednesday, nearly 57,000 Facebook users had "liked" the "Mohammed Day" page. A similar Facebook page had drawn more than 5,800 "like" votes. Meanwhile, another page protesting the "Mohammed Day" event had attracted more than 67,000 fans.
In Islam, depictions of the Prophet Muhammad are considered blasphemous.
Certainly, this latest controversy between the tenets of Islam and the Western philosophy of free speech won't be the last. What's interesting about this new ruckus is how the rapid spread of technology is contributing to a global culture clash.
As more people worldwide incorporate cell phones, laptops, and (eventually) tablet devices into their daily lives, the free exchange of information will grow exponentially. Religious and government leaders will likely step up efforts to block Internet-based content they deem threatening or offensive–and ultimately they'll fail. A society can't embrace the benefits of technology without accepting the free flow of information–even potentially offensive speech–that's along for the ride.
What's that old saying about letting the genie out of the bottle?