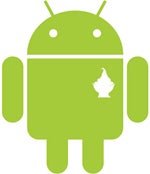 I got an advance look at Google's latest treat for Android phones, Android 2.2 (more deliciously known as Froyo) on the Nexus One. Announced this morning at Google I/O in San Francisco, the update will initially be available to Motorola Droid and Nexus One owners in June. Android users will definitely be happy with this update, which delivers faster performance, tethering/mobile hotspot and of course, Flash support.
Flash Player 10.1: Great for Watching Video
At last, full Flash support has finally arrived on Android. Overall, the whole experience is quite good, but I encountered a couple of issues in my hands-on. Video playback looked excellent on the Nexus One's screen. I watched a couple of trailers on the Warner Brothers' site and was impressed with how smooth playback the was.
Flash support brings some big gaming potential to the Android platform. I tested the South Park Studios' make-your-own avatar feature and was amazed with how speedy the game was. Other games, like a baseball game on Kongregate ran smoothly as well. Farmville fans will also be delighted to learn that the ridiculously-addictive social networking game is Flash-based as well. Now you'll never get away from your farm.
Of course, not all sites were so fast. While the kid's educational site Ecoda Zoo looked gorgeous on the Nexus One, it moved painfully slow. I tried playing a couple of beloved Flash games that aren't optimized for mobile and was disappointed that I couldn't play some of them without a keyboard. For example, with Dino Run, I had to press the "space" bar to do a certain action, but I couldn't access the touch keyboard (the keyboard only comes up when you're in a typing field).
Interestingly enough, there's a shortcut on one of the homescreens to a page with recommended Flash-enabled sites and games including South Park Studios, BBC, Sony Pictures, Armor Games and more. TechCrunch dug up the lists for both the Nexus One and the Droid and pointed out that the two are different. In fact, the list for the Droid is much shorter than the Nexus One's.
Missing from all of this Flash action, of course, is Hulu. I was really disappointed when I tried-and ultimately failed-to watch an episode of "30 Rock" on the Nexus One. According to Adobe, Hulu does not own distribution rights for their content on mobile devices and therefore cannot stream video to smartphones. With no Hulu on the iPad and no Hulu on your Android phone, isn't time for Hulu to develop an app? Let's hope so.
Android 2.2: Faster Performance, Wi-Fi HotSpot and Tethering
While Flash Player is clearly the biggest update, there are definitely a few gems in the update. I did some side-by-side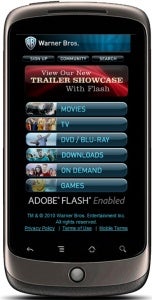 tests with a Nexus One running 2.1 and right off the bat, I noticed how much faster 2.2 is. Native apps launched quicker and scrolling through Web pages felt smoother on my 2.2 Nexus One.
I'm not sure how the carriers will handle this, but I was able to turn my T-Mobile Nexus One into a mobile hotspot via T-Mobile without any issue. Tethering also worked without any issue with T-Mobile.
One of the biggest weaknesses with Android was the inability to download apps to your microSD card; you had to resort to using your precious internal memory. Now, with the 2.2 update, you can store your apps on a microSD card.
Finally, there are also a few subtle cosmetic tweaks in the update. On the homescreen, there are three permanent shortcuts to the dialer app, the app menu and the browser. Éclair (2.0/2.1) only has a shortcut to the Menu app. Other than that, 2.2 looks pretty similar to 2.1.
The next treat for Android fans is Gingerbread, coming in Q4 of 2010. What do you want to see in the next version of Android? Leave your answer in the comments below.