The first (and only) official Twitter app for the iPhone launched today, and is available in the App Store for free.
Twitter decided to jump into the smartphone market about a month ago, when it acquired the popular iPhone client Tweetie from its creator, Loren Brichter. The most recent version of Tweetie was Tweetie 2, which disappeared from the App Store yesterday. Tweetie 2 was a $2.99 download, while the new Twitter app is free.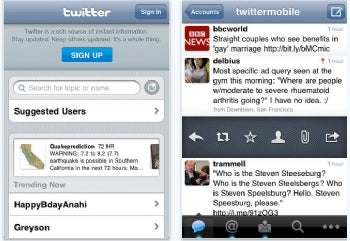 For those of you who haven't used Tweetie, it is one of the better Twitter apps out there. The homepage features a search bar, "suggested users" tab, and a list of trending topics. Sign in (or sign up), and you'll be taken to a screen with the latest tweets from your list of Twitterers. There are five tabs at the bottom–a "latest tweets" tab, a "@" tab (tweets that mention you), a "messages" tab (private messages to you), a "search" tab, and the "more" tab.
To write a tweet, there's a button in the upper right corner. The "compose" screen features a number of quick buttons for you to add people, hashtags, geotags, shrunken URLs, and photos to your tweets.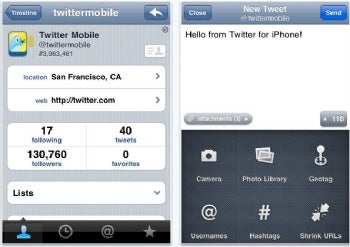 Twitter, or Tweetie v. 3.0, does have a few new features:
– Search results now include Top Tweets
– You can use Twitter without an account (you'll be able to search, browse users, and see trends and top tweets)
– You can sign up for Twitter within the application
– Retweet and other popular actions have been moved to the main actions bar
– "More" tab has been reorganized
Though Tweetie–now Twitter–was one of the most well-designed and popular Twitter apps, there are still several other Twitter apps (both free and paid) in the app store. These include Twitterific, Twittelator Pro, and TwitterFon.
Earlier this month, Twitter for both Android and Blackberry devices was released. Twitter apps are also available on Palm's WebOS platform.