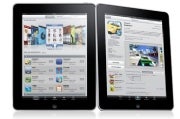 Country-specific iPad App Stores are showing up one week early than expected for international users who bought an iPad from eBay or Craigslist, before the tablet officially becomes available in their country.
Perks aside, it turns out that they will also have to repurchase any apps they might have bought by using the U.S. iTunes Store, and also lose some other U.S.-only apps like the highly rated ABC Player that lets you view recent episodes from two dozen ABC primetime and daytime shows on your iPad.
Apple first launched its iPad tablet in the U.S. only, where it has seen sales of over one million devices. The high demand for the iPad led to Apple postponing the launch of the device internationally, with many tech fans having to import one on the grey market.
In anticipation of the first batch of official iPads arriving in the U.K. on May 28th (second on June 7th), Wired reports that Apple has switched on a week early the iPad App Store for the (limited) other countries where the tablet is introduced this month. The iBooks bookstore however, is still reported as unavailable internationally.
The country-specific iPad App Store has a couple of implications for those who imported an iPad on the grey market: firstly, they will be able to access iPad-only apps through the device itself, but that will mean that they will have to repurchase any apps they bought so far if they want to stick with their country-specific store.
By now, those who bought an iPad outside the U.S. had to download apps through the U.S. iTunes store on their computer, and then sync them back on the iPad. To do this operation, these users had to obtain an iTunes Store U.S. account, which can be done only with U.S. credit or debit cards, so they had to find various workarounds.
Access for international users to the U.S. iTunes Store meant that they could also download apps not meant for them, such as the ABC player or even BBC News. The appearance of the national iPad App Stores will mean this content will be filtered out, and sticking with that would imply repurchasing any other apps downloaded through the U.S. store.
In proof of this, The Inquirer has a screenshot of a pop-up message on such a grey market iPad in the U.K., saying the user's account is valid for access to the U.S. iTunes Store. Users however, can migrate between iTunes accounts, if they don't want to repurchase any app.
Follow @PCWorld and @DanielIonescu on Twitter.