Want a metric for the speed of U.S. government? Just look at the response to Google Street View cars' accidental collection of private data.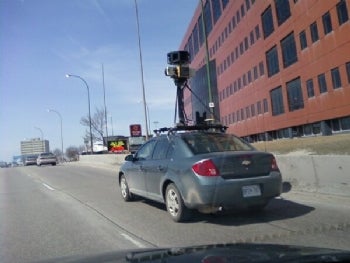 On Wednesday, U.S. Lawmakers started showing some rage over the incident, in which Google admitted that its Street View photography cars around the world inadvertently collected private communications data from unsecured Wi-Fi networks. U.S. Reps. Joe Barton and Edward Markey have asked the Federal Trade Commission to investigate whether the privacy breach broke the law. Google says this was due to some old code from an experimental project, and acknowledges its mistake.
Outside the United States, investigations are already underway. Germany led the charge, bringing the fiasco to light in early May by asking to audit the data in question. The country has given Google until May 26 to hand over a hard drive from any one of the Street View cars that collected private communications over unsecured Wi-Fi networks, the New York Times reports.
France and Italy have launched their own inquiries. Italy's data collection authority demanded answers on when and why Google started collecting the data, where and for how long the information is stored and whether any of it was sold. France's National Commission on Computing and Liberty is reviewing the incident and deciding what action to take.
Meanwhile, Ireland has already moved on by letting Google delete the data. The U.K.'s Information Commissioner's Office has decided not to pursue the case once its citizens' data is deleted.
With all that in mind, what's the FTC up to? Oh, just confirming the receipt of letters from Congressmen Barton and Markey, and offering no immediate comment to Reuters. Both the FTC and the Justice Department are reportedly "interested in looking into the data collection," says Reuters. I guess that's a step above being completely indifferent about the whole ordeal.
Whether the Street View privacy breach was a harmless slip-up or a major catastrophe, the government needs to act. The response by now shouldn't be "no comment," but rather, "here's what we want to know and how we're going to find out," or at the very least, "we are actively investigating and will have an answer by [insert date here]." Let's see that Open Government Initiative in action. Let's not wait it out to see what other countries come up with.