At a Glance
Expert's Rating
Pros
Superb 8-megapixel camera
Gorgeous, responsive display
Cons
4G coverage isn't everywhere
Our Verdict
The speedy HTC EVO 4G packs in some powerful specs and a variety of multimedia features into a stylish, minimalist design, but not everybody will get to enjoy one of its best features–4G connectivity.
HTC has struck gold again with the HTC EVO 4G ($200 with a two-year contract from Sprint), which is easily the best Android smartphone available. The EVO 4G packs powerful specs and a lot of features in a slick, stylish design. The biggest drawback is that not everyone will get to experience 4G connectivity, one of the phone's best features at launch–yet they'll still have to pay for it.
In addition to the phone's $200 price tag, EVO 4G owners will have to shell out $70 per month for unlimited data, as well as a mandatory $10 Premium Data add-on for 4G use. Given that only a handful of cities have WiMax coverage, this strikes me as unfair. Why should a user in, say, San Francisco have to pay that additional fee if they don't have 4G available to them?
Minimalist Design
Though I'm all for recyclable, minimal packaging, the EVO 4G's box is a little strange. A colleague pointed out that it resembles a tofu container. Other reviews have remarked that it looks like a microwavable meal. But really, it's what's inside the box that matters. The EVO 4G comes with the bare minimum: a Micro-USB cable, a USB wall charger, a 1500mAh battery, and an 8GB MicroSD card.
Design-wise, the EVO 4G is a bit imposing with its 4.3-inch WVGA (800-by-480-pixel) touchscreen, glossy black bezel, and blood-red detailing. Measuring 4.8 by 2.6 by 0.5 inches, the EVO 4G is also a bit larger than your average smartphone. Even so, it feels pretty comfortable to hold (and my hands are small), and I was able to use it with one hand without any issues. Like the HTC-built Nexus One, the four navigation buttons (Home, Menu, Back, Search) are part of the display rather than physical keys. This gives the EVO 4G a sleek, minimalist look. In my hands-on tests, I found the touch-sensitive buttons quite responsive, as well. The phone also has a much-hyped front-facing camera, which I'll cover later in this review.
Like the Nexus One, the EVO 4G has no dedicated camera key on its spine. The right edge houses the volume rocker. At the top of the phone sits the 3.5mm headphone jack and the power button. At the bottom is the HDMI port, along with the Micro-USB connector for both data transfer and charging.
Flip the EVO 4G over, and you'll find the 8-megapixel camera and dual LED flash, plus the phone's sturdy kickstand for tabletop video watching. When you pull out the kickstand, you see the aforementioned blood-red detailing. Remove the rubberized, matte-black battery cover, and you're greeted with even more color; the phone's interior and battery cover are both that same shade of red. HTC pulled the same design move with the Droid Incredible, as well as with the HD Mini (except that phone's interior is mustard yellow).
Honestly, the native Android keyboard isn't my favorite; the keys are too narrow and tightly packed, and its dictionary isn't always as on-point as the iPhone 3GS's. For an alternative, however, I recommend downloading the keyboard app ThickButtons, which follows a letter-by-letter algorithm to shrink the letters that you aren't likely to use and enlarge the buttons that you are.
Android 2.1 With Sense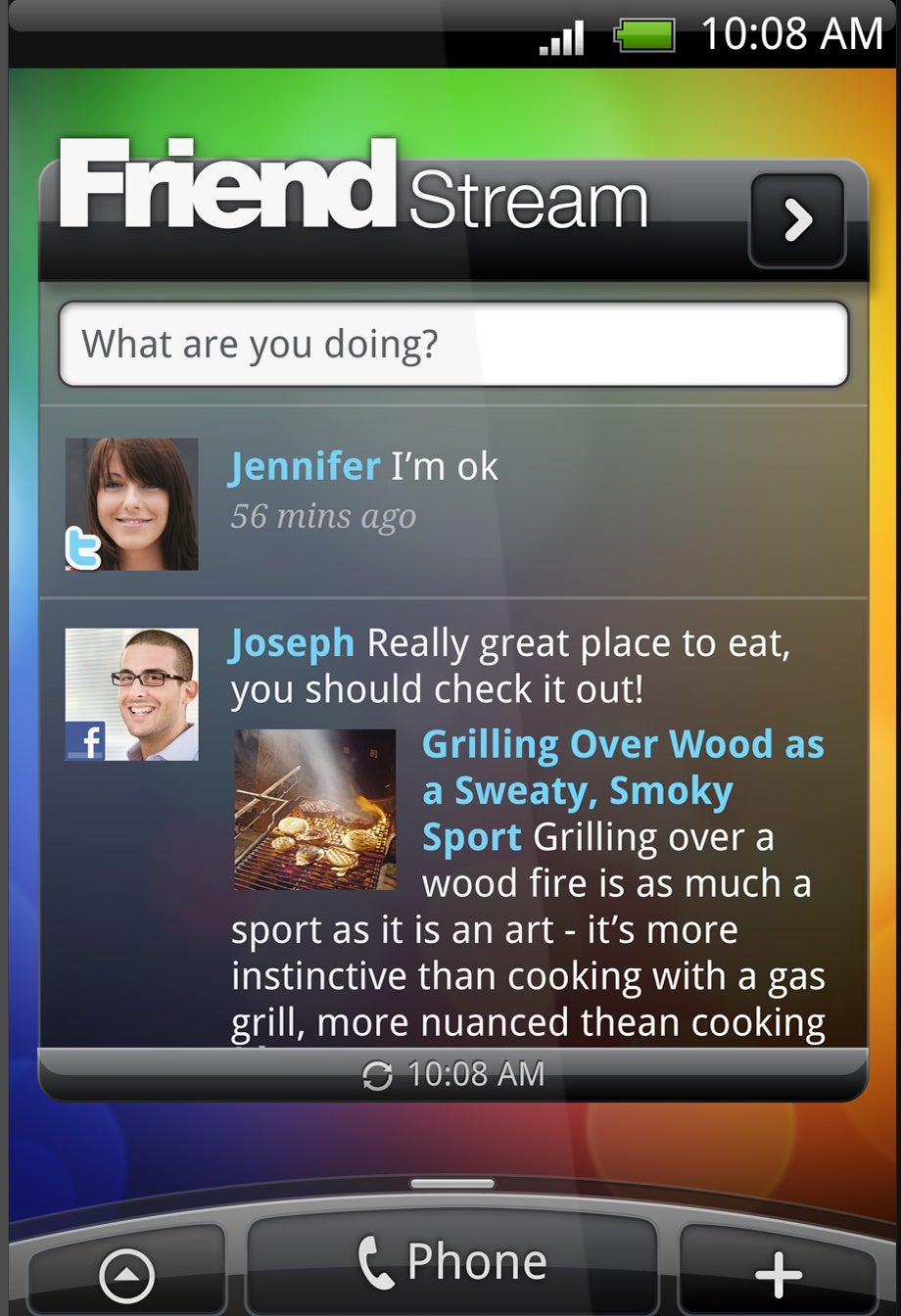 Out of all of the custom skins for Android, HTC Sense is definitely my favorite. It is the easiest on the eyes, and it doesn't bog down the operating system by trying to do too much. The latest iteration of Sense features Leap, which is essentially an elegant way of handling multitasking; it's actually a bit reminiscent of Palm's WebOS deck-of-cards visualization. Pinch anywhere on the homescreen, and you'll jump to seven thumbnail versions of your open pages. From there, you can go to any of those open applications or close out of one.
Friend Stream, HTC's social network aggregator, allows you to view your friends' status updates, shared links, and pictures all in one seamless view. Supported social networks include Facebook, Flickr, Twitter, and others. I find such social network feeds a bit annoying–do I really need to see everybody's tweets and Facebook status updates all mixed up together? But I suppose if you're an avid social networker, seeing all of these updates in one place is useful.
One feature I found especially cool: You can tap and drag to highlight a block of text and either look up a word in a dictionary or translate it via Google Translate.
Along with the standard Android applications, such as Gmail, Google Talk, and YouTube, the phone offers HTC's Twitter app (Peep) and its photo-geotagging app (Footprints). In addition, you get a handful of Sprint apps, like SprintTV, Sprint Navigation, Sprint Zone, and Sprint Football Live.
Multimedia Machine
I'm not really a fan of HTC's Sense music player. Why? The album art doesn't take advantage of the EVO 4G's large display while the app is in Now Playing mode; it remains thumbnail-size. The Sense player is slightly prettier than the dull-as-dirt Android player, but I prefer iTunes or Palm's WebOS player. Audio sounded good, though, and the player supports a respectable range of audio and video formats. On YouTube, you get a feature called HQ, which enables you to watch better-quality videos (if available). You simply press the HQ button in the corner of the video, and a crisper, larger video–one that actually uses the EVO 4G's entire screen real estate–will load. Better yet, no 4G connectivity is needed.
Video playback via SprintTV was a disappointment, however. The video stuttered quite a bit, and the sound didn't match up. According to other reviews I've seen, it wasn't much better over a 4G connection, either.
In Video: Sprint's HTC EVO 4G is One of The Best Android Smartphones Yet
Superb 8-Megapixel Camera
While 5 megapixels seems to be the standard for high-end smartphone cameras, the EVO 4G goes a step further with an 8-megapixel camera with a dual-LED flash. As with the iPhone 3GS, you can touch to focus on a subject. The camera's user interface is pretty straightforward, too, and it offers a handful of advanced controls such as exposure, color, white balance, and various photo effects.
Photo quality was impressive, both indoors and out. Colors appeared vivid but natural, and details looked sharp. My only complaint was that the flash tended to blow out details and color in indoor shots (see below).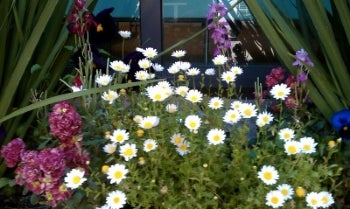 You can also capture HD video with the EVO's 4G camera. I was really pleased with how well my videos turned out, though the results don't hold a candle to those of a 1080p camcorder (see test video below). You can output your photos and videos in HD quality (720p) via the HDMI port. Of course, you'll have to purchase an HDMI cable–which is unfortunately sold separately.
To share videos, look no further than Qik, an application that will come preloaded on the EVO 4G. One of my favorite mobile apps, Qik allows you to stream live videos from your phone to your family and friends, as well as to share them via social networking sites like Facebook. And, yes, Qik supports HD-quality videos.
Last but not least, the EVO 4G sports a front-facing 1.3-megapixel camera with video recording. This feature, paired with 4G speeds, opens up many exciting opportunities for app developers. I'm anticipating lots of apps with integrated video-chat clients. Imagine being able to play a multiplayer game while video-chatting with your opponents. Or, what if you could watch a video while simultaneously discussing it with a friend? The application possibilities are endless.
4G and Mobile Hotspot
Unfortunately, at this time we were unable to test the phone's 4G speeds and features, as 4G coverage has not yet rolled out in San Francisco. For more information on the advantages of 4G, see "4G Wireless: 20 Questions Asked & Answered." We'll follow up with more testing as soon as possible.
Sprint says its 4G network delivers peak download speeds that are up to 10 times faster than 3G average download speeds. Though Sprint has been talking about its WiMax service (provided via the Clearwire network) for a few years now, we haven't seen many WiMax-enabled devices outside of laptop cards and modems.
If you are in a 4G-connected area, you can use voice and data simultaneously. I'm sure you've seen those Luke Wilson AT&T commercials, so you know this is a necessary feature. Yes, you can look up a restaurant while you're on the phone making dinner plans with your friends (even though that's kind of rude). Really, though, the most useful purpose for this function is when you're connected to the mobile 4G hotspot: You won't be disconnected if you get a phone call.
With the built-in mobile hotspot, you can connect up to eight Wi-Fi-enabled devices, including a laptop, camera, music player, video player, and any other Wi-Fi-enabled device, to the 4G network. Connecting to the hotspot is simple: You can access it either by a dedicated icon on the Launcher or in your Settings menu. You then type in your SSID name, the encryption type, and your password, and you're good to go. The hotspot will cost you $30 per month on top of the $80 for the data plan and Premium Data add-on. Fortunately, there's no cap on data usage.
Solid Performance
We were able to test 3G performance, and overall I was impressed with how quickly multimedia-rich pages loaded over Sprint's network. Additionally, I was pleased with how clear my phone calls were in San Francisco. A few of my colleagues on the other end of the line noted that my voice sounded a bit tinny, but my voice was still sufficiently loud and clear–even while I stood on a busy street corner.
Like the Nexus One, the HD2, and the Droid Incredible, the EVO 4G runs on Qualcomm's 1GHz Snapdragon processor. The EVO 4G was pretty speedy in my hands-on tests, even when I had multiple applications open. Applications launched quickly, too, though a few crashed on me (Sprint Football Live and Qik were the offenders).
Though Sprint hasn't released numbers for talk-time or stand-by time, I found that I was able to go a full day with moderate data usage without needing to recharge. 4G connectivity will definitely affect battery life, however, and we'll update our review once we're able to test it.
The HTC EVO 4G represents a huge step forward for both the Android platform and Sprint's 4G network. Unfortunately, it might be a little too ahead of its time, as 4G is fairly limited here in the United States. Aside from that issue, the EVO 4G is a winner with its solid hardware, multimedia capabilities, and speediness. Even if you don't have 4G connectivity in your city, you'll be pleased with this smartphone. But don't say I didn't warn you about that additional $10-per-month fee.