One word for SoupToys Toybox is "amusing." Another way to describe it is "something that'll eat up a lot of time if you're not careful, and that's a good thing." SoupToys Toybox (free) places a box full of basketballs, tennis balls, tiny rubber balls, a roller skate, a basketball hoop, and other objects, on your desktop. It gives these objects cartoony physics and lets you go nuts with them. It even keeps score when something manages to clear the basket. The roller skate, especially, is amusing because of how it gets knocked over when a basketball is tossed at it.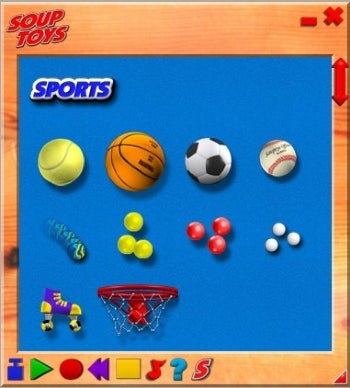 That's just one of the playsets. Scroll down and you'll see dozens more objects such as snowmen and skeletons, each of which interacts with the other in a compelling and distinctive way. Or, go on the SoupToys Web site and download pre-made playsets that include hundreds of SoupToys items arranged in a dominos-like fashion. These playsets beg to be knocked down, and you won't be able to resist doing so.
Many of the items can be duplicated by clicking on them repeatedly in the Toybox, until you have a screen full of basketballs bouncing off each other, for example. One of the most fun features is to load up one of the pre-built castles and then run a large ball straight into it and watch it collapse.
Stuck on hold for 30 minutes? Sitting at the airport terminal or the DMV? In the back row of a soporific lecture? Try SoupToys Toybox and the minutes disappear like magic.