In selecting retailers for this story, we consulted Dealerscope's most recent (March 2010) annual study of the Top 101 CE Retailers. Of the top 20 companies included in Dealerscope's rankings, we eliminated the retailers that lack a national presence (such as the California-based Fry's Electronics), the sellers that are brand-specific (such as Dell and Apple), the businesses that cater to a specialized market (such as Game­Stop), and the companies that charge membership fees (such as Costco and Sam's Club).
That left us with a manageable group of ten finalists. Four of them are online-only sellers: Amazon.com, CDW, Newegg, and TigerDirect.
The other six are brick-and-mortar retailers–Best Buy, RadioShack, Sears, Staples, Target, and Walmart–though each of them also maintains a strong online presence.
Each of our six product category stories (laptops, desktop PCs, HDTVs, digital cameras, hard drives, and printers, all listed and linked in the box to the right) contains a chart showing how each of the 10 stores did in that category.
Best in Show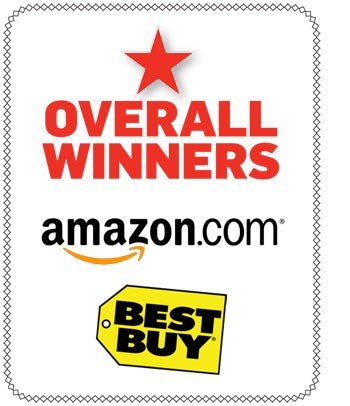 In our evaluations, Amazon.com emerged as the clear winner in the most categories, finishing in first place in four of them: laptops, digital cameras, desktop PCs, and hard drives. Our participating editors in these categories pointed to Amazon's great selection, competitive pricing, and bank of user reviews for purchase research.
Coming in second overall was Best Buy, which took top honors in the HDTV and printer categories. Our editors noted that Best Buy had a good range of products in these two categories, good pricing, and–especially in the case of HDTVs–the most knowledgeable salespeople we consulted.
Best Buy finished in second place (by itself) in the desktop PCs category, and tied for second place in laptops, digital cameras, and hard drives.
In our calls and in-store visits, we found that Best Buy did the best job of answering our tech questions correctly. It was the top finisher among brick-and-mortar retailers, and its online performance was good, as well.
Other retailers that turned in strong showings were CDW, which tied for second in laptops and printers; Staples, which also tied for second in printers; and Newegg, which tied for second in digital cameras and hard drives. RadioShack ended up with the weakest performance ranking overall, finishing last in our survey in the hard-drive and printer categories and tied for last in the rankings for desktop PCs and laptops.
Other chains that earned relatively low marks were Walmart, which tied for last place in cameras, desktops, and laptops; Sears, which tied for last in laptops; and Target, which tied for last in desktop PCs.
How We Compiled Our Research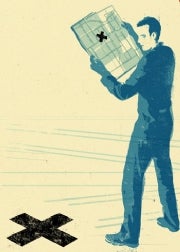 PCWorld editors picked four key products to shop for in each category, and also supplied our team of researchers with a tech-specific question for each product that a technology seller ought to be able to answer.
Our editors examined the online stores' Websites in detail to assess the overall product selection in each category, along with pricing, availability of the products on our list, the sites' return policies, the presence of user reviews and detailed product information, and the quality of the shopping experience on each site.
In all, our researchers made more than 200 calls to branches of the six brick-and-mortar retailers we investigated in six cities across the United States: Boston, Denver, Phoenix, Memphis, Minneapolis, and Washington, D.C.
We also made in-store spot checks at a number of brick-and-mortar stores in seven U.S. cities: Brooklyn, New York; Chicago; Fairfield, California; Houston; Jacksonville, Florida; Seattle; and Vallejo, California.
After sifting through all of the data we collected, we rated each retailer in four categories: In-Store Selection (or Online Store Selection, as appropriate); Return Policies; Quality of Staff Response to PCWorld Phone Calls; and Quality of Overall Shopping Experience.
Averaging these numbers yielded an overall mark, which is reflected in the charts–one each for the six categories.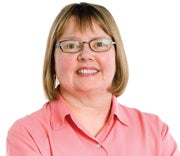 Senior Editor Anne B. McDonald manages many of PCWorld's large feature stories.