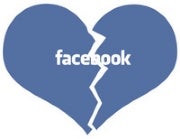 Facebook's privacy problems reportedly have the social network rethinking its approach, and a new poll suggests that the threat of user decline is real, but don't expect a mass exodus any time soon.
A poll by U.K.-based security firm Sophos found that 30 percent of its 1588 respondents will "probably" quit Facebook due to privacy concerns, and 30 percent are "highly likely" to do so. Another 16 percent have quit already.
At issue are changes to the site that allow select external Web sites to automatically log your activity and share it with your friends. For example, Pandora will share your listening habits, and the only way to stop it is through a multi-step opt-out process. It's not highly sensitive information, but the uproar evolved into a bigger discussion about how Facebook is trying to make more user data public.
Sophos' poll is nice for grabbing headlines, but it doesn't reflect what's happening in the wider world. For a moment, let's put aside the poll's unscientific nature — the respondents are readers of Sophos' blog, suggesting a greater concern for privacy and security — and look at some other statistics.
Earlier this week, Fortune reported that Facebook gained 10 million users since the network announced the privacy changes. And then there's this gem of a Facebook group, "Millions Against Facebook's Privacy Policies and Layout Redesign," which has over 2 million members who don't understand irony. An organized "Quit Facebook Day" is planned for May 31, but the 12,335 commitments as of this writing won't make a dent in Facebook's user base of 500 million.
Alas, reports of a backlash are overblown, at least as far as the general populace is concerned, and it's easy to understand why. The very nature of Facebook — a social network that's already used by all your friends — makes quitting hard. Even if you found a comparable service, like the open-source Diaspora, you'd still have to convince all your friends to come with you, and they'd have to convince their friends, and so on.
Which brings us back to Sophos' poll. Graham Cluley, a senior technology consultant for the firm, acknowledged that people who responded to the poll are not typical Facebook users. But, he said, "such people are also likely to have the ear of other users, and as privacy and online safety become more key concerns for the public they will look to experts as to whether certain social networks are acting in their best interests or not."
I doubt they will. Experts are full of great advice that we don't listen to — they've been talking about this exercise thing for years, but obesity still lives large — so why would people quit a service that offers so much for something not immediately noticeable like privacy? The masses won't leave Facebook unless a better product comes along. And obesity's going to stick around until someone invents a vegetable that tastes like bacon.