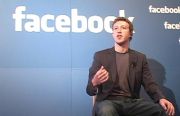 Facebook CEO Mark Zuckerberg on Monday publicly addressed the growing criticisms against his company for its failure to safeguard user privacy. In a column in the Washington Post, Zuckerberg acknowledged Facebook's shortcomings and promised to do better. "In the coming weeks," Zuckerberg wrote. "We will add privacy controls that are much simpler to use…[and]…give you an easy way to turn off all third-party services."
Zuckerberg's column comes after weeks of criticisms from pundits, lawmakers, and special interest groups over the way Facebook was making user data available to third parties, and the social network's confusing and complex set of user privacy controls.
Zuckerberg did not go into detail about how the new privacy settings would work, and he did not provide a specific time frame for when users would see the new privacy controls.
The latest round of criticisms against Facebook's privacy controls began in April after the company introduced a variety of new features at Facebook's F8 developer conference. The new features promised to give you a more personalized experience as you browsed the Web, but critics argued the new controls exposed personal information and increased confusion over how users controlled their privacy settings.
In response to the growing concern surrounding Facebook four U.S. Senators–Charles E. Schumer (D-NY), Michael Bennet (D-CO), Al Franken (D-MN) and Mark Begich (D-AK)–in late April urged Facebook to do a better job safeguarding user privacy a day after Senator Schumer asked the Federal Trade Commission to look into the company's social networking practices.
Then, in early May, the Electronic Privacy Information Center and 14 other consumer interest groups lodged a formal complaint against Facebook with the FTC, charging Facebook with deceptive trade practices (PDF).
Before Monday, Zuckerberg had not spoken publicly about Facebook's latest privacy flap, leaving Facebook executives to address public concern the social network's privacy practices. Ethan Beard, director of Facebook's developer network told Computerworld that, while there were criticisms against Facebook since F8, he argued that user reaction had been "overwhelmingly positive" to the new features. Elliot Schrage, Facebook's vice president for public policy answered user questions in The New York Times saying Facebook would "work to make [Facebook's privacy] settings easier and simpler." Tim Sparapani, Facebook's public policy director also promised during a radio interview that Facebook would be simplifying its privacy settings.
Zuckerberg's column in the Washington Post is the second public statement the Facebook chief has made in recent days. On Sunday, blogger Robert Scoble published an e-mail from Zuckerberg where the CEO admitted Facebook had "made a bunch of mistakes."
Connect with Ian on Twitter (@ianpaul).