Unlike the iPhone and iPod touch, the iPad was designed with the needs of typists in mind. The screen size, the large virtual keyboard in landscape orientation, and the support for external keyboards make the iPad a natural choice for word processing on the go. For many people, that means reading, editing, and saving Microsoft Word documents. Even though there's no iPad version of Word, you can work with Word documents on your iPad if you're willing to accept a few compromises.
[Also see: First Look: iWork for iPad, A Multitouch Office Suite]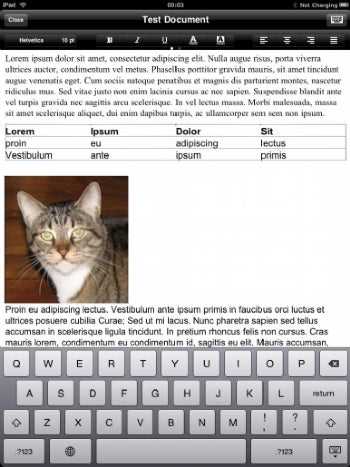 Read Word Documents
Just need read Word documents? All you have to do is get the documents onto your iPad. The iPhone OS (which the iPad uses) can display them natively. For example, you can e-mail documents to yourself as attachments, or use an app designed for transferring and viewing documents, such as Avatron Software's $10 Air Sharing HD, Good.iWare's $1 GoodReader ( Macworld rated 4.5 out of 5 mice ), or Readdle's $5 ReaddleDocs for iPad.
Editing Word documents is a bit trickier. There are currently two good options, but both come with a qualification: they support only a subset of Word's features. So, no matter which method you use to import Word documents, some elements of your document (especially formatting details) may be lost in translation.
Edit Documents With Pages
Apple's $10 Pages for the iPad ( Macworld rated 3 out of 5 mice ) can import documents in Word format and offers most of Word's major features. For example, you'll find paragraph styles, lists, columns, tables, charts, shapes, imported graphics, named paragraph styles, headers, and footers. However, Pages for the iPad doesn't support footnotes or endnotes, hyperlinks, tracked changes, or comments, so any of those items present in a Word document will be removed when you import it, and some other elements (such as fonts, grouped objects, and multi-page tables) will be altered as necessary.
One way to get a Word document into Pages is to e-mail it to yourself. Then, tap and hold on the attachment icon in Mail, tap Open In, and then tap Pages. (Most third-party file-transfer apps, including the ones mentioned earlier plus Dropbox, SugarSync, and numerous others, also have an Open In button that lets you send imported documents to Pages.) Once you've done this, Pages imports the document and displays a message listing any changes made during the process, such as font replacements.
After editing a document in Pages, you must export it before you can open it in Word on your Mac. To do this, tap My Documents (with your iPad in portrait orientation) and then tap the arrow icon under the document's name. To e-mail the document to yourself, tap Send Via Mail, and then Word. To transfer it via iTunes, tap Export, and then Word. Attach your iPad to your Mac with a USB cable, open iTunes, select your iPad, and click on the Apps tab. Select Pages in the list under File Sharing, and then drag the exported document to your Desktop.
Edit Documents with Google Documents
Google Documents, the word processing component of the Google Docs Web application package, can import and export documents in Word format. When importing Word files (which must be no larger than 500K), be aware that Google Documents has a smaller subset of Word's features than Pages does. For example, it offers fewer fonts, almost no control over document layout, and limited paragraph styles.
Unfortunately, you can view but not edit Google Documents in a browser on your iPad. If you access the site in Safari, Google delivers the mobile version of Google Docs, which is read-only. If you tap the Desktop link to display the full version (or use a third-party browser that can masquerade as another browser), you'll encounter a different problem: no support for typing on either the iPad's virtual keyboard or an external one. So your best bet is to use a third-party app that connects directly to your Google Docs account and provides a native iPad editing interface.
For now, the best options are Byte Squared's $6 Doc2 HD, which offers editing for Google Documents, and the company's slightly pricier $8 Office2 HD, which also lets you edit Google Spreadsheets on your iPad. Both of these apps give you control over font, size, style, color, and alignment. They support bulleted and numbered lists, let you insert and manipulate tables and graphics, and include search, undo, and redo features. In addition to saving documents to Google Docs, they let you share them via Wi-Fi, send them as e-mail attachments, or save them to other cloud-based storage systems such as Apple's MobileMe.
Senior contributor Joe Kissell is the senior editor of TidBits and the author of the e-book Take Control of Working on the iPad.