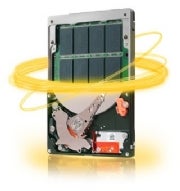 Seagate may have delayed the funeral of traditional hard drives with the release of the Momentus XT, a marriage of a hard-disk drive (HDD) and a solid-state drive (SSD). The hybrid delivers impressive performance at a low price. Here's a rundown of the Momentus TX.
The Momentus XT is a 7200-rpm serial ATA (SATA) hard-disk drive combined with 4GB of SSD capacity and 32MB of DDR3 cache memory. Seagate claims the Momentus XT is 80 percent faster than traditional 7200-RPM drives. The Momentus XT works on PCs and Macs.
The Momentus XT comes in three models: 250GB ($113), 320GB ($122) and 500GB ($156) — far cheaper than other top-rated SSDs.
The stand-out feature of the Momentus XT is the technology used to create it. The Momentus XT uses Adaptive Memory — an invention of Seagate — that tracks a person's use trends and then uses the SSD component of the drive to optimize performance, and it can adjust that performance over time with changes in user behavior.
Speed tests yielded impressive results. Seagate conducted a test against three other industry-leading drives, including a pure-SSD, a 10,000-rpm Western Digital Velociraptor hard drive, and its own 7200-rpm Momentus hard-disk drive. "We booted within five seconds of a SSDs boot time, and we were 15 seconds faster than a 300GB Velociraptor and 36 seconds faster than our 7200-rpm [Momentus] drive," Mark Wojtasiak, senior product marketing manager at Seagate, told Computerworld.
Independent reviewers like the Momentus XT and say it matched SDDs speeds.
Seagate attempted a hybrid of HDD and flash memory back in 2007 with the Momentus 5400 PSD. The drive failed to sell well, but now that SSDs are gaining in popularity — but unfortunately not falling in price — the Momentus XT should be a great offering for those who want stellar, affordable performance.