A robotic forklift picks up a sheet of glass thinner than a credit card and as big as two table-tennis tables, and effortlessly swings it 90 degrees before gently placing it into an oven where it will bake at 200 degrees Celsius. It's a graceful and finely engineered process and one of several that takes place minute after minute, hour after hour, day after day in Sharp's LCD factory in Sakai, western Japan.
The factory, built at a cost of ¥430 billion (US$5 billion), is the most advanced display factory in the world and on Monday Sharp opened it to reporters for the first time.
Operations at Sakai began in October, just in time for the competitive year-end sales period, and the factory is already a key supplier of panels for big-screen TVs and one of the reasons why LCD TV prices continue to fall.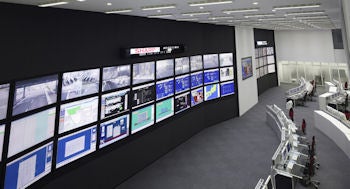 At the center of the plant's claim of world-class status is the size of glass sheets processed. Typically several LCD panels are made on a single sheet of glass to benefit from economies of scale before the glass is cut to produce individual screens. The Sakai plant handles sheets measuring 2.88 meters by 3.13 meters — almost double the size of those at Sharp's other factory — so LCD panels can be made more efficiently and prices lowered.
The glass panels are made by Corning at a plant next to Sharp's LCD factory and transported on a conveyer that connects the two. Across the street Dai Nippon Printing and Toppan have factories that produce color filters for the LCD panels. In total 19 companies contribute to a sprawling facility at the center of which sits the LCD factory. Sharp also has a solar cell factory on the land, and there is unoccupied space for expansion.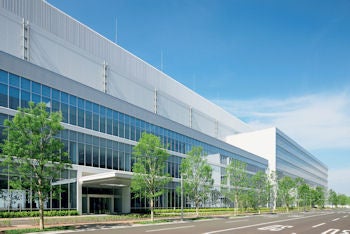 The LCD factory itself covers an area of 14.4 hectares, or about 20 football fields, and is split into several floors.
Looking down from fifth-floor observation windows into one of the clean-room production areas, the sheer scale of the operation was obvious. Photo etching machines, each about 3 meters high and about the size of a tennis court, are lined up one after another for about 200 meters. Inside each sits a 200-ton camera, the largest in the world, according to Sharp.
In other production areas, robots the size of trucks pick up crates holding about 50 sheets of glass and whisk them to other areas of the factory for processing. A wet area is used to wash the glass, drawing around 100,000 tons of water per month through a recycling system while in another area machines check the more than 100 million transistors on each finished panel for faults.
Secrecy abounds inside the plant and on a tour cameras, cell phones and even audio recording equipment were prohibited. Precise details about the operations are closely guarded competitive secrets to the point that "We can't tell you" was a common answer to reporters' questions.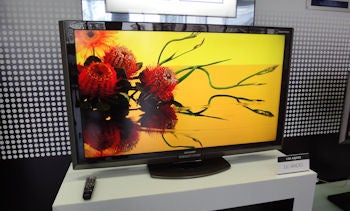 Sharp says its Sakai operations have a comparatively lower impact on the environment than other plants. The larger glass sheets mean more efficient production and a central energy control center collectively manages the energy needs of all the factories on the site. Solar panels on the factory roofs supply 9 megawatts of power and there are plans to double this, while Sharp has also had a hand in constructing a nearby solar farm for Kansai Electric Power.
Sakai can currently handle up to 36,000 sheets of glass per month. Each sheet has enough space for 18 screens in the 40-inch size or 8 screens in the 60-inch size, and two sheets are sandwiched together in each finished screen. The plant is capable of making around 324,000 finished LCD panels per month for 40-inch LCD-TVs or 144,000 panels for 60-inch LCD-TV sets.
It's a vital part of Sharp's TV business and soon will play a similar role for Sony. On Dec. 29 Sony will invest ¥10 billion for a 7 percent stake in Sharp Display Products, the company that runs the factory, and gradually build its shareholding to 34 percent by the end of April 2011.
The investment will give Sony guaranteed access to a portion of the screens coming off the Sakai production line and follows an earlier joint venture deal with Samsung Electronics for previous-generation technology.
Plans call for production capacity at Sakai to double to 72,000 glass sheets per month from October 2010, at which time the factory will be operating at full capacity.