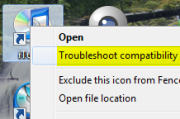 Windows 7 has the same core code as Windows Vista, right? So application compatibility should be a non-issue, right?
Wrong.
Recently I tried to apply a firmware update to a Blu-ray drive, but the installer was designed for Vista and produced an error in Windows 7.
Meanwhile, I've had ongoing problems getting my iPhone to sync properly with iTunes–even though it worked just fine in Vista.
Much as I like Windows 7, at times like these I wish I could turn back the clock and run Vista, or even XP.
Turns out I can. Windows 7 has a little-known feature that helps you troubleshoot application compatibility. Here's how to use it:
1. Right-click the icon of the app that's not working properly, then click Troubleshoot compatibility.
2. Windows will try to detect compatbility issues, then give you two options: Try recommended settings and Troubleshoot program. I recommend trying the first option first; if it doesn't work, you can always return and try the second (which gives you the choice of which previous version of Windows you want compatibility with).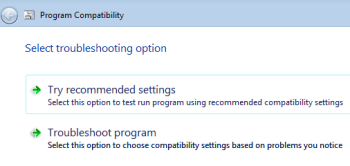 3. After Windows applies the selected settings, click Start Program and see if that solves the problem. Either way, click Next to have Windows apply the settings "permanently" or try again with different settings.
This tool solved both my aforementioned problems. For iTunes I let Windows choose the settings (XP with Service Pack 2, in case you're wondering), and sure enough, my iPhone synced perfectly.
For the firmware updater, I chose my own settings–Vista with SP1, as that was the installed OS before I upgrade to Windows 7–and again it did the trick.
Compatibility problems can be vexing, to say the least, but I'm glad Microsoft thought to supply a simple, effective workaround.