Is it possible that AT&T is getting a bad rap? It is hard to be sympathetic to such an unsympathetic company, but suppose AT&T isn't quite as bad as everyone assumes? Or more likely, that other carriers aren't much better?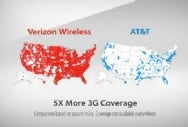 AT&T is back in the news because Consumer Reports, in its survey of customer satisfaction with cellular carriers (subscription required), ranked AT&T last.
The magazine scored the carriers as follows: Verizon, 75 points; T-Mobile, 70 points; Sprint, 67 points; and AT&T, 66 points. When you consider that "differences in reader score of less than 3 points are not meaningful" it turns out that only Verizon has a score to be proud of, and it's a "C".
The other carriers are within four points of one another, a barely meaningful spread, according to the magazine.
AT&T did especially poorly in San Francisco and New York, where everyone knows its network is overloaded by iPhone users. The surprise was that the carrier did poorly almost everywhere. (See images of the magazine's pages here).
The downside of Consumer Reports' technique is that its scores are based on 51,700 survey respondents, people who self-selected themselves to offer comments.
According to AT&T, a better way to measure customer satisfaction is by how many customers cancel their service.
"We appreciate and value all customer feedback. We learn from it and it helps us serve our customers better. Without question the surest indication of customer satisfaction is churn, or turnover. For the last quarter, our postpaid churn was just 1.17 percent," the carrier said in response to questions from the All Things Digital blog.
Some of that low churn represents how much iPhone customers love the device, even if they don't love the carrier it is presently tied to.
"Despite the network problems, a staggering 98 percent of iPhone users in our cell-phone-buying survey were satisfied enough to say they would definitely or probably buy the phone again. Only 79 percent of respondents who bought other cell phones said the same," Consumer Reports said in its commentary on the survey results.
Back in March and April, PC World commissioned impartial testing of the major carriers' networks in cities across the U.S. The resulting report, "A Day in the Life of 3G," found AT&T to be lacking reliability in many cases, but none of the networks did especially well.
My take: Like you, I've read all the gripes about AT&T. And I think Verizon has got them cold on the 3G coverage issue. Still, I don't feel the service I get from AT&T is especially bad.
Some of the carrier's sorry reputation comes from iPhone users who are upset at having AT&T as their only option. These people then badmouth AT&T and the snowball gets rolling.
I have an iPhone and am not an unhappy AT&T customer. I dislike all the carriers pretty much equally.
My impression that "Verizon is better" mostly comes from Verizon customers who tell me their service is better. But, how much do they really know about the service AT&T, Sprint, or T-Mobile provides?
Reading the Consumer Reports and PC World studies, and factoring in my own experience, along with what I've learned from friends, I think Verizon is the best carrier–really–but Sprint, T-Mobile, and AT&T are so close that saying one is much worse than the others isn't fair.
Because people have been saying that AT&T is bad for so long, it's just accepted that the company is bad. Lacking the ability to easily compare one carrier to another, could AT&T customers be self-programmed to describe any level of service the company provides as being lousy?
Likewise, maybe Verizon customers have been told how good Verizon is for so long that they naturally respond that Verizon is wonderful, regardless of the service they actually receive?
I believe it is time to give AT&T a break, at least on service quality. As for 3G and lawsuits, the company is on its own.
David Coursey has been writing about technology products and companies for more than 25 years. He tweets as @techinciter and may be contacted via his Web site.