Remember those privacy changes that Facebook announced last July? They are about to be implemented across the network, Facebook founder Mark Zuckerberg said in an open letter posted on the site.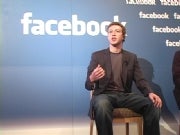 In the Tuesday post, Zuckerberg also revealed that the service now has 350 million worldwide members, compared to 250 million in July. Besides that, little else in the letter is new. It's more a reminder of what is about to happen than a real announcement.
We already knew, for example, that regional networks are going away. This is a major change for Facebook, which had previously made regional, school, employer, and other networks a key part of its privacy model.
"However, as Facebook has grown, some of these regional networks now have millions of members and we've concluded that this is no longer the best way for you to control your privacy," Zuckerberg wrote.
"Almost 50 percent of all Facebook users are members of regional networks, so this is an important issue for us. If we can build a better system, then more than 100 million people will have even more control of their information.
"The plan we've come up with is to remove regional networks completely and create a simpler model for privacy control where you can set content to be available to only your friends, friends of your friends, or everyone."
Again, none of this is new, but Zuckerberg is now offering a timetable for implementation.
"Since this update will remove regional networks and create some new settings, in the next couple of weeks we'll ask you to review and update your privacy settings. You'll see a message that will explain the changes and take you to a page where you can update your settings," he wrote.
With the change, Zuckerberg promises that users will gain much more granular control over who can access each individual piece of content the user posts to the service. Here is what the company said about the changes when they were announced in July.
My take: Regional and other networks made sense when Facebook was a tiny service for college students and other affinity groups. But, as it became "how people connect" the groups stopped making sense. I've been a member of regional groups and they have never been useful to me. Good riddance.
Still, a point could be made that users may not need Zuckerberg telling them what is best for them. If 100 million users think regional groups are OK, why is Facebook going out of its way to change things?
Facebook will benefit from giving users more control over who sees what they post. But, will users understand how to make the new privacy settings work properly? Will this mean the end of content that people didn't want the world to see winding up on the bulletin board at work?
Probably not, but at least Facebook users will soon have better tools to keep private things private, if we choose to use them. That will make Facebook even more "the people's network" and that's as good thing.
I've been involved in the testing of the new privacy controls, which just appeared on my account one day. I am glad they exist, but rarely use them. Actually, I don't believe I have ever set an item to a privacy level more strict than "everyone." I guess that makes me an "anti-tester" of sorts.
But, as to why it has taken Facebook so long to implement these worthwhile changes, well…
David Coursey has been writing about technology products and companies for more than 25 years. He tweets as @techinciter and may be contacted via his Web site.