When the first responders at Georgia-based National EMS go to work, they save lives. They also produce a mountain of paperwork, all of which must be accurately managed and securely stored for a minimum of seven years. The storage of all these documents was a monumental task, requiring the company to use a large warehouse space to store it all. And the labor hours wasted in storing and managing it all, and retrieving documents as needed, was overwhelming the 12-person office staff.
To get all this paperwork under control, National EMS called Computer Troubleshooters NRD. We assessed the company's current infrastructure and came up with a solution that simplifies the process of managing all this documentation while meeting the stringent requirements of the Health Insurance Privacy and Portability Act and other government regulations.
Document Overload
Until they called us, National EMS had been working out of file boxes and large file cabinets. A file room with six vertical file cabinets was used to store files, and every couple of months those cabinets would fill up. At that point, the files would be moved to long-term warehouse storage, where they would sit for seven years. Meanwhile, the company hires couriers to retrieve documents and deliver them between the office and the warehouse.
Also, since the company works with Medicare and Medicaid, they have to make multiple copies of documents for use in multiple files. A few dozen times a day, employees have to pull existing files from storage, which takes about 15 minutes to get up, go to the file room, find the file, pull it, and return to their desk. We calculate that they were wasting the equivalent of two full-time employees pulling files every day.
We came up with a plan to stop all this paper shuffling and simplify the company's workflow, cut labor costs, and improve efficiency.
Smarter Document Management

The first thing we needed to do was eliminate the company's reliance on file cabinets and paper. To digitize all of the paperwork, we installed Kodak double-sided sheet-fed scanners. All billing personnel now have their own scanners at their desks, and two larger Kodak i1220 scanners are now centrally located for common use. Remote workers will have the smaller scanners, as well, and will scan directly to the server remotely.
At the core of our solution, we deployed Cabinet NG, a document management system to help them do away with paper all together while providing a secure, audit-driven system that will allow them to more easily comply with HIPAA and other regulations. We installed a server to handle this load, as the demand on it will be too high for the company's existing server. This new server will also perform the role of terminal server so that remote users can access the system without experiencing any delays.
Cabinet NG also has the ability to pull information from their existing system so we recommended the synchronizer and retriever options to integrate it into their existing programs and infrastructure. This way they will be able to pull up the files they need for a particular client that they have pulled up in their billing software without having to search for that client in CNG. Synchronizer allows either a onetime import or an ongoing synchronization of an existing database such as that of their billing software. Retriever allows them to link Cabinet NG to their existing programs or web applications so that when they pull up a customer in that program retriever pulls up the documents in CNG. This is a huge advantage because it allowed them to integrate the document management into their existing programs without upgrading or replacing them.
We are also recommending that they take advantage of the workflow functions of CNG to automate some of their more common tasks. However they move paper around the office now can be done electronically. The new workflow allows them to perform important tasks quickly, such as routing all time sheets to a single manager for approval and moving entire folders to someone specific for review. Future workflow plans including automating some of their document creation and routing them automatically to the person who needs to approve them or edit them next. We will be able create alerts and conditions for any document that they need.
To keep licensing costs under control, we recommended a Cabinet NG 20-seat license with a mix of named users and concurrent user license. This way the concurrent license can be assigned to multiple users, such as those that work in different shifts.
The Payoff
The clearest benefit of our solution is that National EMS will be able to do away with all that paper and costs associated with storing it. Compliance with HIPAA and other regulations will be easier to maintain, and easier to track. By reducing the amount of paper they produce, including getting rid of the high-volume copy machines they used to make multiple copies for each file, the company will save an estimated $6,000 annually.
National EMS will also regain roughly 80 labor hours per week, since employees will no longer need to manually file and retrieve paper documents. Meanwhile, electronic tracking features in CNG will improve worker accountability. Any paper documents that they have can now be scanned and shredded. Over the next several years, the company will be able to gradually repurpose its warehouse space as existing archives reach the required seven-year storage period.
Meet the Pros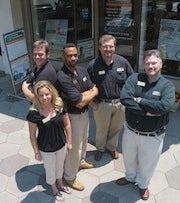 Doug Smith is the owner and proprietor of Computer Troubleshooters NRD, a Covington, Georgia-based IT firm with more than 50 years of combined IT experience on staff. Together, the team holds more than 50 industry-standard certifications, including multiple MCSEs. Contact them at 404-477-1302 or via their Web site.
For more real-world tech solutions for small and midsized businesses–including cloud services, virtualization, and complete network overhauls–check out PC World's Tech Audit.
If you're an IT solutions provider serving the small to midsize business market, and you'd like to learn how you can contribute to PC World Tech Audit, send mail to techaudit@pcworld.com. We're always looking for more talented pros.
Tech Audit is written and produced in cooperation with IT professionals in the field. All recommendations and opinions expressed represent the independent judgment of the authors and do not necessarily reflect those of PC World or its editorial staff.