Microsoft continues to tweak its fledgling Bing search engine, which debuted in June. Today it announced a series of enhancements, many involving Bing Maps, designed to provide a better search experience and hopefully lure people away from Google, which dominates the search market.
Many of the new tools, including map upgrades, are still in beta. You can try them out for yourself. For starters, Bing's new Streetside feature borrows a page from Google Maps by providing street-level views of specific locations. As with Google Street View, you can move in several directions to get a better sense of the local scene: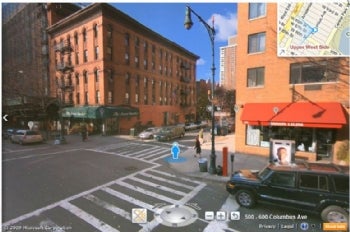 My first impression of Streetside is that its photos are clearer and more detailed than those in Google Street View; then again, Streetside is in beta and doesn't have many views yet. We'll see if Streetside maintains its higher quality once Bing expands the feature to other cities and countries.
The new Applications Gallery shows a lot of promise. It's a series of map overlays that provides valuable information, including nearby businesses, local traffic conditions, and even realtime Twitter updates. Microsoft plans to open the Gallery up to developers, who can add their own apps.
One particularly clever app is Photosynth, a photo-management tool from Microsoft that stitches together digital images to create "synths"– 3-D renderings of multiple photos of the same scene. Bing users can rotate and view the synths from many angles. The more photos supplied by Bing users, the better the 3D effect: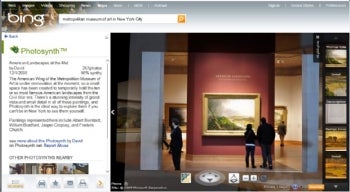 Of course, Photosynth doesn't simply pop up when you view a Bing map–that would prove annoying. Let's say you search for "metropolitan museum of art in New York City." Once the map appears, you click an orange arrow at the bottom of the screen, which launches Bing's Map Apps menu: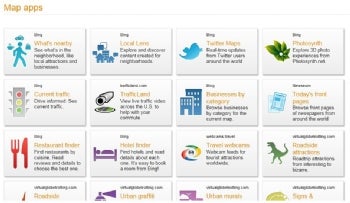 You then select "Photosynth" from the list of apps, which currently total 16 on the beta site. Other Map Apps include a Twitter overlay, which displays local tweets on a map: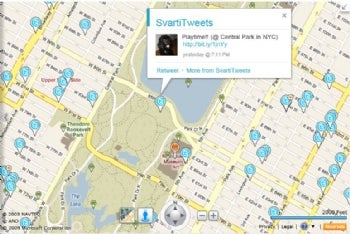 Honestly, I'm not sold on the Twitter feature. Far too many tweets are cryptic, superficial, or just plain dumb. On a NYC Central Park map, for instance, one tweet included a photo of a dog with the text: "Playtime!!" Another said: "Sup bloomberg!" Not very helpful.
Then again, Bing users will like the What's Nearby app, which pinpoints restaurants, hotels, parking garages, and other handy businesses on your map: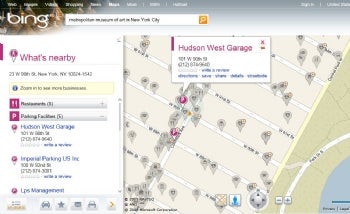 Microsoft is s also launching a new Bing app for Windows Mobile devices, as well as Bing Bar for Internet Explorer and Firefox. Certainly, some of these tools will stick, while others will vanish.
And will they all work for both desktop and mobile users? I'm curious how well a graphics-intensive app like Photosynth would run on a smartphone.
The good news here is that Microsoft is dishing up some serious competition to Google. And that means a better search experience for the rest of us.
Contact Jeff Bertolucci via Twitter (@jbertolucci ) or at jbertolucci.blogspot.com .