It's tempting to compare Bing Maps Beta, Microsoft's revamped mapping service, to Google Maps. And the two services do have plenty of common features. But once you start exploring Bing Maps Beta, you'll find lots of features that Google Maps doesn't have, so let's examine those features on their own merits.
Pro: Feature Rich
There's lots to do in the revamped Bing Maps. Type in city name and you'll get its Wikipedia entry, weather, photos, and a selection of "apps" for things like hotels, businesses, and even graffiti art (apparently Microsoft has a rebellious streak). If you're a fan of Google's simplicity, this could be a con, but it is a good way to explore a city without actually going there. One quibble: Where's Wolfram Alpha integration when you need it?
Con: Weather's Just Clutter
Showing the weather for whatever area you're viewing seems like a good idea, but it's not particularly useful to know weather conditions at that exact moment. An overview of the climate or seasonal weather, would be more helpful, but the most you do is click "more details" for the entire sidebar and get a 3-day forecast.
Pro: Streetside for Business, Photosynth for Pleasure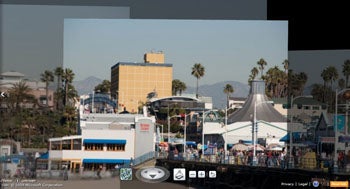 I like that Photosynth, a tool that lets you create 3D walkthroughs from your pictures, is integrated into Bing Maps Beta. Practically, there's very little value to it, especially when you've got Streetside, Microsoft's answer to Google Street View. Combined, you can get a pretty good sense of where you're going.
Con: Apps Are Too App-Like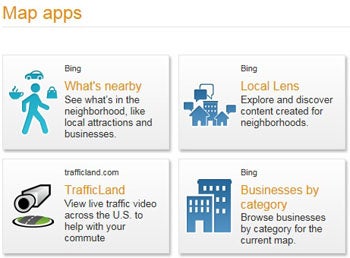 I understand that a grid of big, colorful buttons is all the rage these days, but Bing Maps Beta's current app menu is too clunky. Instead of only having a pop-up menu that occupies the whole screen, there should be a place in the existing layout for small, user-selected icons, explained when you run the cursor over them.
Pro: Area Glimpses
A minor feature of Bing Maps Beta is one of the best: When you type in a destination or scroll over to it on the map, you see a few thumbnail images that provide some local flavor. You can also click on these images to get more photos from Bing Images. It's a Google rip-off, but the thumbnails are actually large enough to see. Unfortunately, though, it's still a bit buggy: all the photos that appear for "Venice, CA" were taken in Italy.
Con: Visit Once And You're Stuck
Okay, Microsoft, I've tried Bing Maps Beta, but it's too slow and buggy to use it full-time right now. Let me switch back. No seriously, show me a button for switching back, and stop redirecting me back to the beta in Chrome. (If you want to switch back, click the tiny button in the bottom right corner of the map that says "About beta," then click "Stop using the beta.")