One day after details leaked about the code-named "Sholes Tablet" comes a second, seemingly similar Android smartphone from Motorola. Only two pictures, which appeared in a comment thread on BoyGeniusReport, have been taken, but the phone seems to slightly surpass the capabilities of the Sholes Tablet.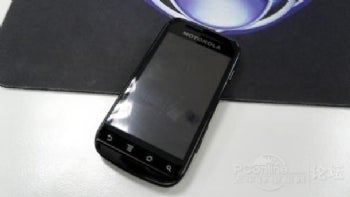 The rumored phone sports the Sholes Tablet's 8-megapixel autofocus camera with dual-LED flash. It also boasts a .1-inch touchscreen size advantage (3.8 inches vs. 3.7 inches). Although no photographic evidence (not that these photographs are conclusive) has turned up yet, the mystery phone is rumored to sport an 800MHz processor (compared to the 550MHz processor of the original Droid and Sholes Tablet).
Before you start budgeting for the new gadget, be aware that some are skeptical of this new release: A French site noticed that the mystery phone looks quite similar to the Samsung Jet S-8000 and offered up comparison shots. The evidence is quite persuasive, but not quite damning.
On the other side of the rumor spectrum, Motorola officially announced that they will be investing in Sensitive Object, a company focusing on multi-touch anywhere platforms and natural user interface. Their technology focuses on sound waves coming from physical touches. The result is that any surface can be turned into a touch device. Sensitive Object claims that touch devices using acoustic tactilization perform better than resistive, capacitive and optical touch surfaces. How and if this will affect the upcoming touchscreen tablets Motorola is cooking up remains to be seen.
[via BoyGeniusReport]
Follow @ geektech on Twitter for more news on hardware, hacks, and cutting-edge tech.