Just when you thought it was gone for good, the controversial CrunchPad is scheduled to make its debut on Monday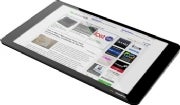 morning for reporters and industry analysts. Fusion Garage CEO Chandra Rathakrishnan will participate in a video call, scheduled for 9:30 a.m. Pacific, when he will speak to the media and show the device in action. Fusion Garage was developing the CrunchPad in partnership with TechCrunch.
The San Francisco Business Times reported that Rathakrishnan will also give private briefings later on Monday, but Derek James, a spokesperson from Fusion Garage's public relations firm for the event, San Jose-based McGrath/Power, could not confirm this. Update: Rathakrishnan will also give private briefings for members of the press later on Monday.
Rathakrishnan is using this opportunity to tell his side of the CrunchPad controversy. It's not clear if Fusion Garage intends to move forward and sell the device, but that may be very difficult to do without TechCrunch's involvement.
Lawsuits are Brewing
On November 30, TechCrunch founder Michael Arrington announced that the long-running CrunchPad project was officially dead. Arrington claims that Fusion Garage wanted to cut TechCrunch out of the project and move forward with selling the device on its own. That may be a problematic step for Fusion Garage to take since the intellectual property rights to the CrunchPad technology belong to both TechCrunch and Fusion Garage, according to Arrington. TechCrunch claims the exclusive rights to the CrunchPad name.
Arrington says TechCrunch intends to file lawsuits against Fusion Garage and may also sue Rathakrishnan and individual Fusion Garage shareholders.
The CrunchPad
Had it launched, the highly-anticipated CrunchPad would have been a 12-inch touchscreen tablet device designed for Web surfing, video chat, and light e-mail use. The device's operating system was Linux-based, and would have been very similar in concept to Google's upcoming Chrome OS. Features for the CrunchPad were believed to include a Webcam, microphone, speakers, and USB ports. The exact specs for the device will likely be made clearer on Monday.
When Arrington first announced he wanted to build the device, the TechCrunch founder hoped to be able to sell the device for less than $200. Since then, however, there had been speculation the device's cost was going to be much higher, and later it was suggested that high costs may be killing the CrunchPad.
In his post declaring the CrunchPad dead, however, Arrington indirectly disputed these rumors. Arrington said he had lined up "a major multibillion dollar retail partner" that would have sold the device at the lowest possible price to help the device succeed when it first hit the market.
Those plans are now cast aside, at least for the moment, but it will be interesting to see what happens after the CrunchPad (or whatever Rathakrishnan intends to call it since he doesn't have the rights to that name) debuts on Monday. Will Fusion Garage have the guts to bring the device to market and face the wrath of Arrington? Or will public enthusiasm force the two sides to reconcile their differences? Only a few days until we find out.
Connect with Ian on Twitter (@ianpaul).