All signs point to the launch of slate-like touchscreen computers next year. The highly-anticipated Apple tablet will appear sometime in 2010,
according to a variety of sources, and the soap opera known as the CrunchPad may or may not appear, depending on the outcome of a likely bout of legal wrangling. There are signs that Microsoft may enter the market too.
Conceptually, a tablet device is appealing: An 8- or 10-inch LCD color display with touch input — essentially a netbook screen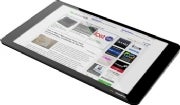 minus the rest of the computer. A tablet could resolve many of the ergonomic limitations of today's smartphone, namely the small display that limits its usefulness as a Web browser and media player.
But given the saturation of mobile phones and laptop computers, particularly in the consumer market, is there a place for the tablet? Assuming that a slate computer would work best in the home — not many of us would want to lug a 10-inch tablet around all day — what benefits would it provide to the average user? Here are some pros and cons:
Kitchen appliance: A Web-enabled tablet would offer a lot of benefits here. Cooks could easily access recipes online, and watch TV shows via iTunes, particularly if reports of Apple's plans to offer subscription TV servi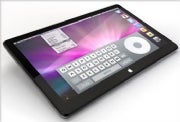 ce are true. A kitchen touchscreen would need a screen-protecting film and a protective case — many iPhone owners have these — or run the risk of Canola-clogged circuits. In addition, a stand or wall mount might be necessary. After all, you can't hold a touchscreen while making dinner.
Home Web browser: Many people like smartphone touchscreens, which I find too small for Web browsing. A tablet with a netbook-sized display would a big plus, particularly for touch input. If I'm sitting on the sofa, I'd rather hold a tablet than perch a notebook on my lap. Then again, if you're sitting at a desk, a laptop would be the better choice.
E-book reader: The Amazon Kindle, Sony Reader, and Barnes & Noble Nook are all turning out to be hot items this holiday shopping season. A tablet's book-like dimensions and lightweight portability would seemin
gly make it a natural e-reader — or perhaps not. If the Apple tablet and similar devices have backlit displays, they might not make very good e-readers at all. By comparison, the Kindle's paper-like E-link screen reduces eyestrain and uses less power than backlit devices.
Video player: For watching short YouTube clips, news reports, and other video snippets, a tablet would be great. For longer shows, including sitcoms, hour-long TV dramas, and feature films, I'm not so sure. Would you want to hold a tablet for 2 ½ hours while watching, say, The Dark Knight? Probably not, but a stand or wall mount would make video-viewing a lot easier. In-home use is questionable, particularly when an inexpensive media-streaming box like the Roku Player combined with a living room HDTV sounds like the better choice.
Music box: Today's MP3 players are tiny, portable, inexpensive, easy to use, and can hold a staggeringly large number of tracks. As a result, I don't see the benefits of a tablet-sized music player. Perhaps if a tablet came with integrated stereo speakers, or some other feature made possible by the large form factor, it would gain an advantage. Could the larger displays resurrect the lost world of album cover art? Perhaps, but that's not a strong selling point to consumers who grew up with audio CDs and digital downloads.
A laptop alternative: Could you ditch your laptop and use a tablet for all your computing needs? Possibly, with a wireless keyboard for word processing and other productivity apps. You might also need a wireless mouse, as the back-and-forth between keyboard and touchscreen might prove awkward over time. But without external input devices, the tablet would likely remain a niche product rather than a laptop replacement.
Add-ons: What will tablets cost? We don't know the answer yet, but the retail price may not fully reflect the total cost to consumers. If add-on devices are required, including an optional stand or wall mount for video/TV viewing, a protective case and screen cover for kitchen use, a wireless keyboard for productivity software, and perhaps even wireless speakers for music playback, consumers may balk.
We'll see what happens next year. Apple has proven naysayers wrong before. With its iPod, it conquered an established MP3 player market when critics said it was too late to the game. And it accomplished a similar feat with the iPhone in 2007. The difference this time, however, is that Apple and its fellow tablet-makers would be creating a new market, not redefining an existing one. Can they pull it off?
Contact Jeff Bertolucci via Twitter (@jbertolucci) or at jbertolucci.blogspot.com.