MediaMonkey, a free music-management application that's meant as an alternative to iTunes, has been around for a while. The latest version of the software adds several important features and makes it worth a second look had you passed it up before. The biggest addition to version 3.2 is full support for Windows 7. It supports a specific Windows 7 feature called AeroPeek, in which you hover the mouse over the application's icon in the taskbar. In this case, it pops up an image of the current album cover, and has music controls beneath the album art. This allows you to easily change tracks without ever actually switching to the application first.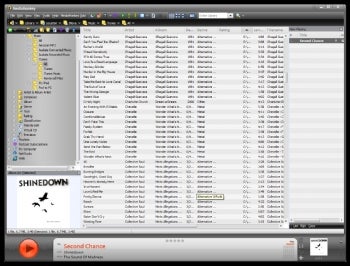 The other new feature is the ability to sync with numerous popular mobile phones natively, something iTunes can't do correctly (or else Apple intentionally breaks support for said phones, as it does with the Palm Pre). MediaMonkey 3.2 supports Android phones, the Palm Pre, and all models of the iPhone and iPod.
You also get existing MediaMonkey features such as removing duplicates, renaming files to a standard, downloading cover art, organizing an entire PC worth of music into a single library, ripping CDs and so on.
Those tired of iTunes taking up too many system resources, not working, being finicky with syncing, and so on need to give MediaMonkey a look. It's replaced iTunes as my primary media player.
Note: Most features are free for an unlimited time in MediaMonkey. However, using the MP3 or M4A encoders past 30 days requires purchase of the Gold version, which is $20 for 3.x upgrades or $40 for lifetime upgrades.