Google on Monday unveiled its real-time search capability, the latest salvo in its ongoing feature war with Bing. Microsoft's search engine already integrates real-time Twitter and Facebook results. Now, both search engines have released their initial real-time products, and there's a lot to like from the two major search brands. Let's take a look at how Bing's Twitter search matches up against Google's real-time search.
Bing's Twitter Search Beta
To try out Bing's beta version of Twitter search you have to go to Bing.com/twitter. At the top of the page is a tag cloud with the top keywords on Twitter, and below that are sample tweets from those hot topics as well as links to see further results.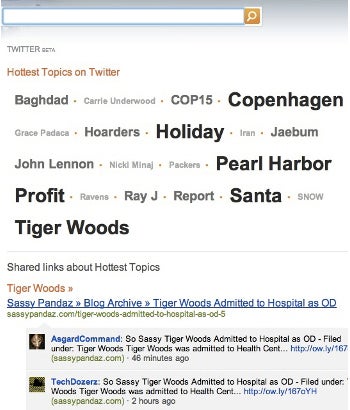 To get started just enter your query into the Bing search box as you normally would. For my tests, I searched for 'Iran.' On Bing's results page, Microsoft has divided the Twitter results into most recent tweets, top links shared on Twitter (with links to the news story and the tweets underneath), and the rest of the page is filled with links to other subjects related to Iran.
If you see any tweets you find particularly interesting, Bing includes a retweet button to the right of the post that lets you broadcast that message to your Twitter account. The retweet button does not let you update directly from Bing, but sends you Twitter's site to update your status.
There is also a pause button next to Bing's 'most recent tweets' section, but in my tests this button was unnecessary because the tweets never updated.
Google's Real-Time Results
Twitter is just one part of Google's push into real-time results, as Google includes the latest updates directly from blogs and news services as well. But, still, in my tests Twitter updates were the bulk of Google's real-time results. Unlike Bing, however, Google's real-time search results are embedded in your regular search results page instead of a dedicated real-time page.

When you enter popular search terms into Google, your results page will include a "Latest results for" section that features a constantly updating window of real-time results that usually shows up about halfway down the first results page.
Searching for Iran, for example, included twitter messages, tweets with links and a story from the Agence France Presse in the first few seconds. A search for John Lennon (the singer/songwriter was killed on December 8, 1980) triggered a greater mix of blog posts and news stories mixed in with tweets.
You have the option to pause Google's real-time feed, and as the feed grows a scroll bar to the right of the window lets you review older results. When you're scrolling through the real-time results, Google does not constantly try to bounce you back up to the top of the window every time a new result comes in. This is a nice touch, as I have used other real-time features where the scroll bar would bounce away making it impossible to read anything but the most recent information.
Although you don't have to visit a dedicated page for Google's real-time results, you can trigger this feature by visiting Google Trends and clicking on one of the page's hot topics.
But unlike Bing, not every search term you enter into Google will trigger the real-time feature. Google's approach makes sense, to a certain extent, since there may not be much real-time relevance to a search for a particular celebrity or historical figures on most days. But then again, sometimes people post interesting information such as quotes from the likes of Mark Twain or Winston Churchill, quirky facts about history, and other information that may be interesting to discover.
Unlike Google, you are guaranteed to find more real-time results on wider range of topics on Bing; whether those search results have any value is left for you to decide.
Connect with Ian on Twitter (@ianpaul).