The day has finally arrived. Let the trumpets blare and confetti rain from the sky. With three weeks to spare, Google has met its self-imposed deadline and the beta version of its Chrome Web browser is now available for the Mac OS X and Linux operating systems.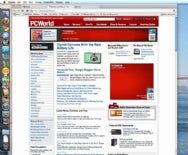 The Google Chrome Web site will autodetect the operating system you are using when you visit and offer up the options appropriate for that platform. So, don't bother visiting from your Windows system to try and download the Mac version.
The Chrome Web browser has been available for Windows for over a year. It has been around long enough to have gone from beta, to official release, back to beta, and back to official release–all while Linux and Mac users sat idly by waiting for their turn.
The Chrome developers were committed to creating a native Mac OS X application rather than just trying to port the Windows Chrome browser over to Mac. Google software engineers John Grabowski and Mike Pinkerton wrote in a blog post that the developers "focused on delivering rock-solid depth in a few critical areas for the browser, rather than a breadth of features that are rough around the edges."
Ironically, this is the same week that Google has unveiled extensions for the Windows version of Chrome. Extensions is one of a fairly extensive list of features and functions that were eliminated from the initial Mac OS X beta of the browser in order to bypass hurdles and get the software released before the end of 2009.
In addition to browser extensions, the initial beta release for Mac OS X is also lacking bookmark sync, bookmark manager, multitouch support, 64-bit compatibility, and Google Gears (which Google plans to replace with HTML5 support anyway).
Still, Mac OS X and Linux users have some things to look forward to as well. The Chrome browser has been developed from day one to be faster–faster start-up, faster page loading, faster search. Many independent benchmarks agree that Chrome is fast. The Chrome team also focused on security to ensure that beta testers can use the browser safely.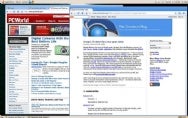 While Mac OS X and Linux combined make up less than 10 percent of the overall operating system market, it is 10 percent that Internet Explorer isn't even available on. Expanding Chrome to be more broadly available across multiple platforms will help Google capture some more Web browser market share, and also help pave the way for the eventual release of the Chrome operating system .
To be fair though, remember this is a beta version of the Chrome Web browser. There will be issues and rough edges that need to be worked out over time prior to an official release for Mac OS X or Linux. So, download it, use it, love it–but when you encounter problems just count to five slowly and remind yourself it's a beta.
Tony Bradley tweets as @PCSecurityNews, and can be contacted at his Facebook page .