Dell's Vostro line has traditionally been geared towards small businesses, doling out drab, low-powered notebooks and desktops for organizations that need PCs on a tight budget. But the V13, the latest notebook in the Vostro lineup, hopes to shake things up a bit. Weighing in at 3.5 pounds and a svelte 0.65 inches thick, this brushed-metal bijou promises to turn heads, without emptying your corporate warchest. We recently had a chance to sneak a peek at one, and came away fairly impressed.
The basic model runs for $449, and comes equipped with a 1.2GHz Celeron ULV 743 processor, 2GB of DDR3 SDRAM, a 250GB, 5400 RPM hard drive, and Ubuntu Linux. Connectivity options include 802.11 b/g WiFi, Gigabit ethernet, and Bluetooth 2.1 on every model. The 13.3 inch LED-backlit screen is also standard on every model. Klutzes will appreciate a Free Fall Sensor built into the motherboard, while road warriors can opt for a Mobile Broadband Module.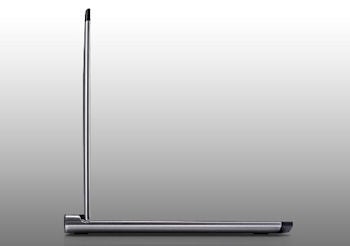 There aren't too many expandability options to speak of — you'll find one USB 2.0 port, one USB 2.0 / eSata combo port, and a VGA display port. Ponying up for the $649 model will also net you Windows 7, a larger, faster hard drive, a webcam, and a 1.3GHz Core 2 Duo ULV SU7300 processor.
Now that we've got those pesky numbers out of the way, let's talk design. The V13 takes the ever popular brushed aluminum route, with zinc hinges. The chassis feels solid, despite being just about light enough to tote with one hand. There's a bit of plastic on the lip of the case to house the WiFi antenna, but nothing too egregious. While our typing-time was limited, the keyboard is full sized, and performed amicably. The trackpad also supports gestures, which could be a nice touch for users who opt for Windows 7.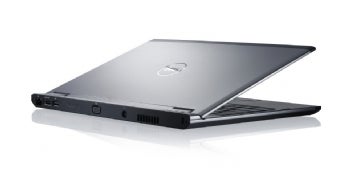 Of special note is the battery: the 6-cell Lithium Ion battery is integrated directly into the case, much like unibody Mac notebooks. While it does allow Dell to shave off considerable girth, it means that should you ever need to replace the battery, you'll have to get your machine serviced. Like all machines in the Vostro line, the V13 comes with a year's worth of access to a plethora of business-friendly services, including 10GB of online backup, automated PC tuneup, and the DellConnect remote-troubleshooting service.
If your inner business mogul is enticed, you can hop on over to Dell's website and order your Vostro V13 today. And stay tuned for mote V13 coverage from PC World in the coming days.
Follow @ geektech on Twitter for more news on hardware, hacks, and cutting-edge tech.