Facebook is great for maintaining relationships of all kinds, but letting them overlap can be a recipe for disaster. Fortunately, it has started to roll out its much-anticipated update to its privacy settings to let users determine on a post-by-post basis exactly who they're sharing with. Here's how you can use the new functions to avoid a Facebook meltdown without spending all day micromanaging your privacy preferences.
Tricky Transitions
You'll know you have access to the new privacy settings if you log on and get a dialog box titled "Important message from Facebook." Clicking Continue To Next Step will take you to the site's transition tool, which will allow you to import your old privacy settings.
Facebook has its own explanation video for the transition tool, but the gist of it is that your old profile privacy settings–whether such parts of your profile as About Me, Work and Education, and Religious and Political Views are visible to Everyone, to Friends only, or to Friends of Friends, for example–can be imported or changed here.
Facebook's old system organized people into regional networks like "San Francisco" or "Japan," but the new version has removed this so that you won't be able to restrict information to just people in your area any more. Also, the "Everyone" setting doesn't just mean all of Facebook–it means the whole Internet, including Google and other search engines and Facebook-enhanced apps.
If you never made any changes to your privacy settings, then Facebook will suggest its default settings. These defaults set your contact info to a Friends-only list; your photos, videos, birthday, and religious/political views to Friends of Friends; and the rest of your profile data to Everyone.
The most important setting in the transition tool is the Posts I Create setting, which sets your default privacy settings on the content you share via Notes, Wall Posts, Shared Links, and so on. Setting this to something more conservative than Everyone will save you the effort of having to manually adjust it on each of your Facebook posts.
Most of the profile privacy setting changes aren't too dramatic from their old functionality, so many of our tips from the article "Protect Your Privacy on Facebook and Twitter" are still valid.
Tweaking the Feed
The main privacy changes are centered around your Facebook feed. Unlike your profile information, your Facebook feed (all the status updates, pictures, videos, links, and blog posts you and your friends exchange over Facebook) is absolutely loaded with potentially embarrassing or compromising material that you won't want to share with your whole Friends list, much less the entire Internet.
When you type anything or paste a link into the open box at the top of your Facebook feed or a friend's profile, a small lock icon shows up next to the Share button. Click this and you'll see a menu that lets you define the people you want to show and hide the post from.
You can choose to show to Everyone (which will bring up a warning dialog box before it lets you post), your Friends, a particular group of friends, or the networks (typically school- or employer-based) to whichyou belong.
Once you set your privacy settings and post your content to the feed, it will be visible to everyone who's allowed to see it. You cannot change the privacy settings for any item in your feed after you post it, including photos and videos, unless you delete and repost. Events and Groups are not affected by these settings, so the We Hate Patrick Miller Club will have to stick to the older privacy controls to stop me from showing up at their club meetings.
You can also specify your privacy preferences for all your Wall content by going to your profile, clicking the Options button under the Share button, and clicking the new Settings menu that pops up. This lets you toggle who can post on your wall as well as who can see those posts, preventing your friends from saying things you don't want your boss to hear (or vice versa).
As of this writing, Facebook Lite doesn't have the new Feed-based privacy features and will just use your default settings.
How To Deal With Annoying Friends
All these privacy functions are great for protecting your personal information and remaining professional, but what they're really good for is dealing with your more annoying Facebook friends–you know, those people you don't want to defriend or block, but whose two dozen daily comments you don't want to have to see.
Subject #1: The Annoying Acquaintance From High School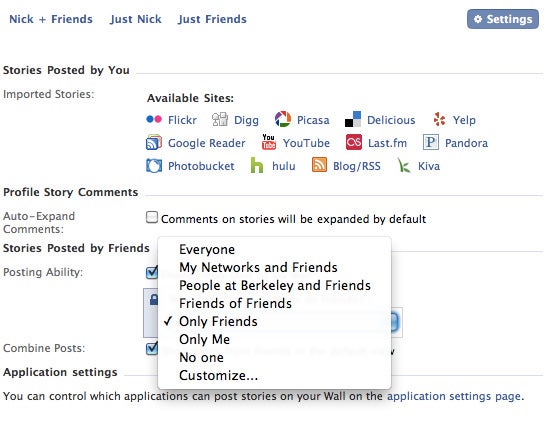 You ran into the guy you sat next to in sophomore English at a class reunion; he added you on Facebook, and interpreted the friend request as a license to continue chattering just as you did in class–on every single item you ever post.
The solution: Next time you post an item on your feed, click the lock and select the Customize menu item. In the "Hide this from" box, type out his name, check the box that says Make this my default setting, and click Save settings. Congratulations–you're now dead to him on Facebook (but still friends).
Subject #2: Your Inappropriate Buddy
Your friend is a great guy, really, but he loves nothing more than to saturate your Wall with stuff you don't want your boss to see.
The solution: You could remove the ability for your friends to post items to your wall, but that's a little drastic. Instead, from your Wall, go to Filter > Settings > Who can see your friend's Wall posts, and specify the users you don't want to know about his existence.
Even better, make a Friend List from the Friends page devoted to the people you want to keep this kind of thing away from (you might already have a Limited Profile list), so you don't have to retype their names each time you find something else you don't want them to see.
Subject #3: Your Opinionated Colleague
You have a colleague who is convinced that he knows better about everything, and he's not afraid to let you know that.
The solution: You could use the same settings that you did for subject #1 and disappear from Facebook, but you don't want to let him think he won. Instead, go to the settings menu from the toolbar at the top of the page, click Privacy Settings, and go to Profile Information.
At the very bottom is the Comments on Posts item: Click on the menu, pick Custom, and add him to the Hide This From menu to prevent him from commenting–but not from reading. (At this writing, a page rendering bug prevents the Custom menu item from showing fully, so you have to bring the menu up and click the mouse button right underneath the Only Friends option.)
Add your own Facebook privacy tips (or hilarious disasters) in the comments. Also, check out Five Facebook Schemes That Threaten Your Privacy and Why Privacy Concerns Are Ruining Facebook for more Facebook coverage.
Patrick Miller is a staff editor for PC World. Find him off-duty @pattheflip.