At a Glance
Expert's Rating
Pros
Strong general performance for its price
Single-touch touchscreen
Cons
4GB RAM without 64-bit OS
Reflective glossy screen coating
Our Verdict
MSI's Wind Top AE2010 does a great job of filling the gap between budget-minded all-in-one PCs, and flashier big screen models.
MSI's Wind Top AE2010 ($650, as of December 8, 2009) is one of our favorite new budget all-in-one PCs. It has a 20-inch single-touch display, Windows 7, and 4GB of memory; it ditches the Atom CPU for a 1.5GHz Athlon X2 Dual-Core 3250e processor; and it is among the best-performing budget all-in-one PCs (20-inches or smaller) we've seen. But we've got a few concerns, too.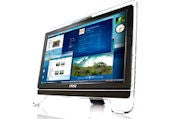 The display's glossy coating creates an annoying reflection of yourself whenever a scene goes dark, and it makes the darker contrasts of a movie or game less rich than you would otherwise see. You also lose detail in darker scenes, as the screen itself has a kind of gray quality to it if you're setting up the system in a room with average lighting. The AE2010's saturation is good, but not great–scenes are colorful enough to appear fine; however, competing all-in-one systems offer more vibrant looks. The AE2010's built-in speakers are a bit worse than those found on your average laptop–not exactly a strong point when you're looking to bust out the movies and the popcorn.
But at least the display is touch-enabled, albeit single-touch. A number of recent budget all-in-one PCs have nixed the touchscreen, and we miss it given Windows 7's touch-control features. MSI's own touch software isn't all that great: The Webcam effects, note-taking applications, and a children's picture-matching game are, frankly, not the best demonstration of how useful touch control can be.
The AE2010's WorldBench 6 score of 60 is practically the same as the 59 returned by the $600 HP Pavilion MS214. The cheaper HP has a smaller 18.5-inch screen that also lacks touch input. If you're on a budget, but want an all-in-one with flat-out speed, consider spending a little extra on the $900 Acer Aspire Z5610 (a 23-inch multitouch) or the $944 Dell Studio One 19 (a 19-inch multi-touch). They scored 101 and 93 in WorldBench 6, respectively.
As with most all-in-one PCs, the AE2010 comes ill-equipped for modern gaming. Its ATI Radeon 3200 graphics delivers a lackluster 13.6 frames per second on a stripped-down version of our Unreal Tournament 3 benchmark (1024-by-768 resolution, high quality).
The AE2010 packs 320GB of storage. That's pretty much the new standard at this price level, but it's worth mentioning that the $550 Lenovo C300 all-in-one offers twice as much (one of that model's few redeeming features). Like the Lenovo, the AE2010 uses a 32-bit operating system (Windows 7 Home Premium, in this case) that can't fully use all 4GB of installed memory. Crazy, right?
At least networking connectivity is top-notch: the AE2010 has both 802.11n Wi-Fi and gigabit networking. You'll be hitting the fastest connection speeds possible whether you prefer a wired or wireless setup at home.
Alongside the six USB ports and the multiformat card reader on the system's front and rear is one extra connection: an eSATA port. It's an odd, yet enjoyable inclusion–I would have expected to see some kind of new display connector instead of eSATA. The generic keyboard and mouse bundled with this all-in-one are both corded, so expect to lose two of these USB ports just to be able to work with your machine–unless, that is, you feel like pounding the screen with your finger a lot. As the system contains no help in the manual for upgrading, you're on your own should you wish to attempt any kind of operation on the insides.
MSI's Wind Top AE2010 does a great job of filling the gap between budget all-in-one systems and flashier big-screen all-in-one PCs (over 20 inches) that we've tested. Minus the slightly questionable picture quality, it's hard to find many faults with the AE2010 that wouldn't exist on any comparable all-in-one desktop. That's just the nature of the game for inexpensive AIOs, and the AE2010 is one of the better examples that doesn't trade away too much for what it delivers.
–David Murphy