Google has seen the writing on the wall and realizes the importance of social media and real-time search for both consumers, as well as for its business customers. Today Google announced that its Google Search Appliance will now be able to provide results from Twitter in addition to the traditional Google search results.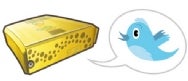 In a post on the Official Google Enterprise Blog, Google product manager Cyrus Mistry stated "Social information is important for businesses: employees searching for information needed to do their jobs benefit from real-time news too. They might be developing a new breakfast cereal, or designing a marketing plan for a clothing line, or writing strategy report for a political campaign. In all of these cases, understanding what is being said just as Twitter users are saying it can be invaluable."
Google has already provided Google Search Appliance customers with a view of related Web results from the public Web alongside the results returned from the corporate intranet. The addition of Twitter results expands the scope of information that users will see and provides a real-time view of trends and issues in the general public.
Mistry explained "Customers have told us that placing web results next to intranet ones often allows employees to think differently about a particular topic and approach it in new ways. By integrating enterprise search with more of the information that exists in the cloud, like tweets, employees can more easily leverage the wisdom of the crowd."
Google has alternated between dismissing and embracing social media. Google CEO Eric Schmidt rejected the growing presence of Twitter as the "poor man's e-mail system". That criticism was followed, however, by persistent speculation that Google may try to simply buy Twitter.
Now, both Google and Bing are aggressively pursuing strategic partnerships with social media networks like Twitter and Facebook to provide real-time search results and remain relevant for users that are accustomed to instant updates.
The value of real-time search results, and the power of social media is too great to ignore. Organizations that fail to recognize and embrace social media may find themselves left in the dust. The challenge is to determine how to leverage social media for strategic advantage, and to be more agile in responding to trends and market conditions–not just setting up a Twitter account and a Facebook page for the sake of doing it.
Companies that are sloppy or unprofessional in their approach to embracing social media are really no better off than the Luddite organizations that have shunned Web 2.0 and social media trends completely. There is a tremendous amount of valuable data and information to be gathered from social networks, and companies can engage customers and establish solid relationships through social media, but the tools need to be applied strategically.
Google has provided step-by-step instructions for Google Search Appliance customers to enable the Twitter results function. The Twitter feature can be enabled for all users, or only some users. It can also be configured so that users can choose whether or not to view the Twitter results on a search-by-search basis.
Tony Bradley tweets as @PCSecurityNews, and can be contacted at his Facebook page .