Apple bought cloud-music service Lala with a plan: to integrate it into an upcoming Web-based version of iTunes, which stores your music purchases online rather than on your computer, according to several reports.
Apple bought Lala last week, and speculation is already flourishing on how the Cupertino company will integrate its new acquisition into the hugely popular iTunes Music Store. Apple is said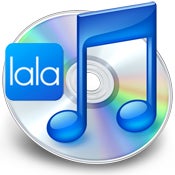 to be developing a browser-based version of iTunes, which will host your music purchases on its servers.
By acquiring Lala, Apple also can sell music through search engines, following a previous deal between Google and Lala in October. Google has reportedly tried to buy Lala as well, in order to use the service to stream music to future users of its upcoming Chrome OS.
A Web-based iTunes would mean that you could access your music from any computer that runs a browser like Apple's own Safari. At the moment, iTunes music purchases are confined to the computer they were purchased from, and other four devices you authorize.
Basically, all your media files from iTunes would be stored on Apple's servers rather than on your computer. Such a move would require massive computing power, and Apple has already prepared for a $1 billion U.S. based data center in North Carolina.
A Web-based version of iTunes would have its disadvantages as well, though. As with most Web apps, a browser-based iTunes probably won't be as feature-rich as its desktop counterpart, and would require a constant Internet connection to access your media.
At the beginning, I suspect the Web-based and desktop versions of iTunes would live alongside each other, offering a way to access your media remotely. The scheme sounds similar to the way Amazon stores in the could books purchased for its Kindle ebook reader and also local on the device, while the cloud version can be accessed from an iPhone or the desktop app.
Meanwhile, Apple is pushing its recently released iTunes LP format with a series of free content. The Holiday Samplers, as Apple calls them, include free downloads from various artists (such as Toby Keith, Weezer, Glasvegas, Barry Manilow,) accompanied by lyrics, album art and holiday-themed graphics.