Step aside, Android 2.0 — Android 2.0.1 has arrived.
Verizon is rolling out its first update to the Motorola Droid phone this week, and many users are starting to receive the package today. Android 2.0.1 is a relatively minor update, but it brings a handful of performance and aesthetical changes that pack some extra punch into the Droid experience.
Droid, Meet Android 2.0.1
The Android 2.0.1 update is being sent over-the-air to Droid users, which means it'll automatically pop up on the phone at some point. The update itself is simple to install: You just accept the dialog box that comes on-screen, and the process begins. The whole thing took only a few minutes on my handset this morning.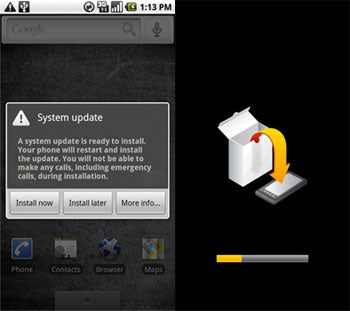 Some of the 2.0.1 changes will be immediately evident, while others are more under-the-hood and may not catch your eye right away. Here's a rundown of what's new, both on the surface and behind the scenes.
(click on images below to enlarge)
New Lock Screen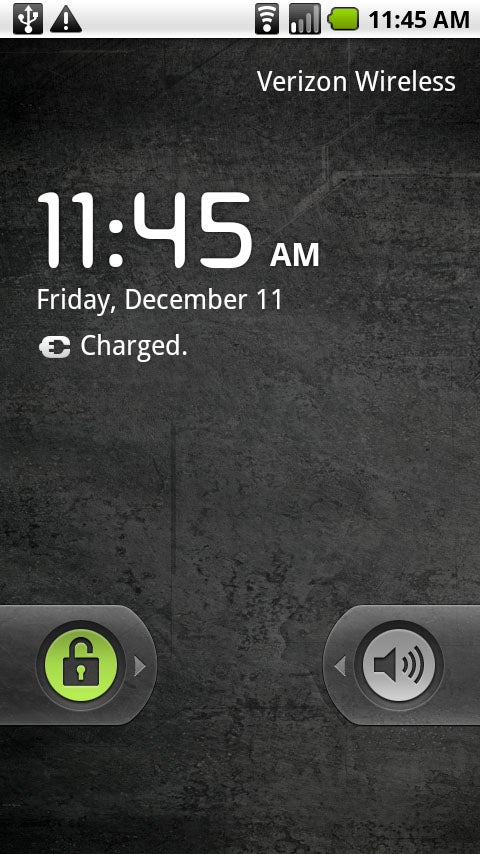 Android 2.0.1 includes a new lock screen. The rotary-like slider is replaced with two separate buttons, one for unlocking the phone and one for toggling its ringer setting. You simply slide your finger across horizontally to activate either option.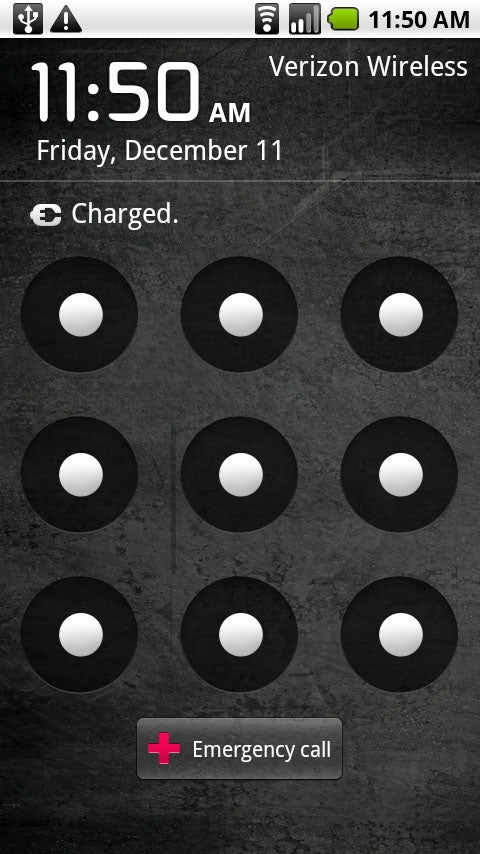 If you use a custom lock pattern, the screen will look different, too — though not quite as drastically. The digital clock is now at the top-left of the screen, with a more modern (dare I say droid-like?) font; the date is below the clock, and "Verizon Wireless" is in the upper right-hand corner.
Refreshed System Widgets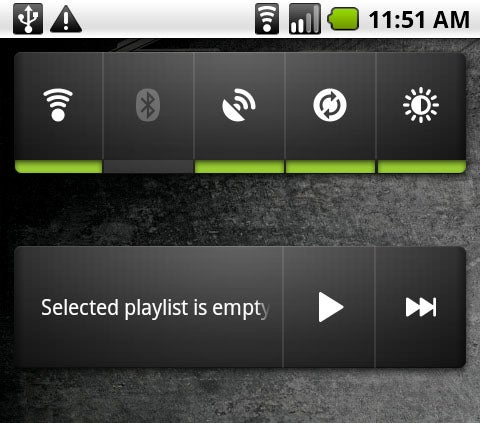 Android's system widgets get a refreshed look with the 2.0.1 update. The silver/gray coloring is replaced with a sleek glossy black appearance.
Improved Camera Performance
The Android camera's performance is significantly improved in 2.0.1. Autofocus is faster and there's less downtime between shots. This is very noticeable.
Better Voice Reception
Verizon Wireless says improved voice reception for incoming calls is one of the more prominent changes in the 2.0.1 update. I hadn't had any call quality issues on my handset to begin with, but everything certainly seems fine post-update.
Stability and Battery Life
Android 2.0.1 is said to improve the general stability of the operating system and also increase the device's battery life.
Other Tweaks and Fixes
Other adjustments in the 2.0.1 update, according to Verizon, include:
• Enhancements to three way-calling
• The ability to have the speakerphone remain on when you answer a call via call-waiting
• Improved Bluetooth functionality: no more background echo and better contact-transferring between the phone and in-vehi cle Bluetooth systems
• A fix for a glitch in which the GPS icon would not automatically disappear from the notification panel after a GPS application was closed
• The ability to use seven-digit numbers in SMS, MMS, and Google contact merging
• An updated interface for the corporate calendar widget
• Instant arrival of any Verizon Visual Voice Mail notices
Android 2.0.1: Overall Thoughts
The Droid's overall system performance does seem a bit better since the 2.0.1 update. Moving between home screens and pulling down the notification panel both now happen very fluidly, compared to the occasional slight hesitation I would experience on the original OS.
Several people have commented that the default system browser seems to function faster in 2.0.1 as well. It's tough to say for certain, but it does seem to be slightly speedier.
(On a side note, I now use the Dolphin Browser app as my default browser. It adds a heck of a lot of functionality, including multitouch zooming, gesture-driven commands, and integrated social network sharing. Check out my demo of the app for a closer look.)
The Android 2.0.1 update is being phased in over the next several days, so if you haven't received it yet, you should get it soon. If you run into any problems, check Verizon's system update help file or call Verizon's customer support line at 1-800-922-0204.
JR Raphael is co-founder of geek-humor site eSarcasm. You can keep up with him on Twitter: @jr_raphael.