An image on the Android Dveloper site (click on "Dev Phones") is apparently the HTC-made successor to the Android Dev Phone 1, and is already in the hands of select Google employees.
Back in November Michael Arrington of TechCrunch reported we would see a super-powered, Google-branded phone in early 2010. Arrington's reports appear to be getting some serious confirmation as Google employees are twee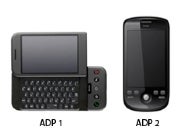 ting they're testing new devices running Android 2.1.
The new phone on Google's site shows a Bravo-like HTC model labeled ADP 2 alongside the Android Dev Phone 1. Google offers no information about the ADP 2 on the site — just the image — but tweets indicate the phone Google staff is playing with is also a GSM-unlocked phone.
According to the tweets, the phone is made by HTC, has a trackball and a high-resolution OLED display, and is "like an iPhone on beautifying steroids."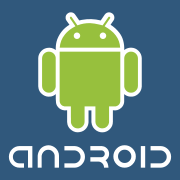 The phone's hardware sounds to be an awful lot like the HTC Bravo (aka Passion/Dragon) that was featured in HTC's leaked 2010 roadmap and captured in leaked photos back in October.
TechCrunch is confident the phone will launch in January and be sold directly by Google as an unlocked GSM phone. However, even if the phone is surfacing, direct sales are not confirmed.
Typically tweets should be taken with skepticism, but Google confirmed the existence of a test device that was handed out to employees, but could not release any specific details on the product. Here's Google's statement:
"We recently came up with the concept of a mobile lab, which is a device that combines innovative hardware from a partner with software that runs on Android to experiment with new mobile features and capabilities, and we shared this device with Google employees across the globe. This means they get to test out a new technology and help improve it."
Rest assured, the tweeting sources say more information on the phone should be coming in the next few days. In the meantime you can monitor the conversation on twitter: #googlephone