Seagate has blazed yet another new trail for laptop storage devices, creating the thinnest 2.5-inch drive yet. The Momentus Thin drive comes in at a slender 7mm and could herald the advent of a new era of thin laptops that are less expensive.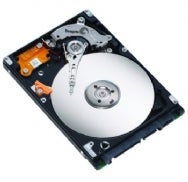 Like their 9.5mm cousins, the Momentus Thin drives are 5400rpm drives with an 8Mb onboard cache and a 3Gbps SATA interface. The Momentus Thin drives also have the same self-encryption, FIPS 140-2 certification, and free-fall sensors as the current Seagate Momentus drives. All that's missing is about 25 percent of the thickness of the standard 9.5mm drives.
Last week Seagate unveiled a different 7mm drive–the Pulsar SSD. Because they have no moving parts, SSD drives are typically thinner than their magnetic platter spinning counterparts. They also offer performance and reliability improvements, but the benefits are offset by the fact that SSD drives are substantially more expensive than standard 2.5-inch drives.
Notebook computers can only get so thin. The motherboard, keyboard, and display also contribute to the overall thickness of portable computers. For standard notebooks, though, the hard drive, and the CD or DVD drive if its equipped with one, are one of the thickest components and basically dictate the overall height of notebooks.
The mega thin notebooks that are currently on the market, like the Dell Adamo at .65 inches total thickness, or the Macbook Air–.76 inches at its thickest point, are luxury devices with luxury price tags, aimed at a niche market. The Momentus Thin drive can move mega thin from luxury to mainstream.
Seagate explains in a statement announcing the Momentus Thin drives "Of all netbook computers available today, 90% feature 9.5mm, 2.5-inch laptop drives because solid state and 1.8-inch hard drives are largely cost-prohibitive for this market."
The statement sums up with "The Momentus Thin drive provides the lowest-cost storage for netbooks and thin laptops, enabling computer makers to offer systems that reach a broader market."
Standard notebooks typically have an internal CD or DVD drive of some sort. Those devices will still provide a bottleneck to creating thinner computers. There is a reason that netbooks, and the Dell Adamo and Macbook Air mentioned earlier, do not have internal DVD drives.
If notebook manufacturers take advantage of the Momentus Thin drive to create a new class of more affordable ultra-thin notebooks, those computers will have to include an external USB-based DVD drive, or offer the DVD drive as an optional add-on. You can use networked or USB-based storage as a DVD alternative.
According to Seagate, the Momentus Thin drive compares favorably in both performance and power efficiency against traditional 9.5mm 2.5-inch drives. The Momentus Thin drives will be available to Seagate OEM's next month, and will come in 160Gb and 250Gb capacities.
Tony Bradley tweets as @PCSecurityNews, and can be contacted at his Facebook page .