A couple months back I wrote a quick tip about forcing programs that start in a window to run full-screen instead. (Actually, I should have said "maximized," not full-screen, as there's a slight difference.)
That tip appeared in the December issue of PC World, and since then several readers have written to tell me they can't get it to work.
Thus, I thought a bit of clarification was in order. Here's the original tip:
1. Right-click the program's shortcut, and then click Properties.
2. This will open the Properties window with the Shortcut tab already selected. Click the pull-down menu next to Run and choose Maximized.
3. Click OK and you're done!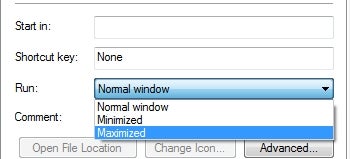 I think some of you may be confused by what a "program shortcut" is. Let's say you want Internet Explorer to run maximized (meaning it fills almost the entire screen rather than appearing in a smaller window).
All you need to do is find the icon for Internet Explorer–that's the "shortcut" that runs the program. This icon might be on your desktop, in the Start menu, or on the Windows taskbar. (Note to Windows 7users: When you right-click a taskbar icon, you next have to right-click the name of the program itself that appears in the pop-up menu, and then click Properties.)
So, to recap, find the icon for the individual program you want to run maximized, then follow the steps outlined above. I've tried this in Windows XP, Vista, and 7, so I know it works. If you're having trouble, leave a comment and tell me the details. I'll try to figure out why.