On Monday Toshiba announced a new 64GB flash memory module, which the company claims is the highest-capacity flash module in the industry. The new 64GB NAND flash module is just 30 micrometers thin, packs a dedicated controller, and contains sixteen 32Gbit chips. It was manufactured using Toshiba's 32-nanometer process.
These memory modules are geared toward use in various portable devices, and once the new modules arrive in early 2010, it likely won't be long before we see a range of new pocket-sized gadgets using the higher 64GB capacity, including future iterations of Apple's iPhone.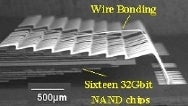 Toshiba is currently Apple's flash supplier for the iPhone 3GS, according to iSuppli. Recent rumours have hinted that the fourth-generation iPhone will arrive next summer, and although neither Apple or Toshiba has commented, it seems only logical that the next iPhone will be packing 64GB of flash memory.
64 GB is enough storage for 1,000 hours of music, 8 hours of HD video and 19 hours of SD video–a nice upgrade from the current 16GB and 32GB iPhone capacities.
Toshiba's 64GB memory module will have a sample shipment later this month, with it entering mass production in the first quarter of 2010.
[Toshiba via MacRumors; Images courtesy of Toshiba]
Follow GeekTech and Chris Brandrick on Twitter.