There was a time when TinyURL was all you needed to get control of a monster-sized URL that you wanted to share with friends. Now, Google and Facebook are getting into the link shortening business, while bit.ly has launched a professional product for bloggers and news organizations. With so many Web pages being shared across social networks, e-mail and micro-blogs, shortened links have become virtual gate keepers to large amounts of content hidden behind those anonymous 15-character hyperlinks.
But not all link shortening services are created equally. Here's what you need to know to take advantage of the new services from Bit.ly, Google and Facebook.
Bit.ly Goes Pro
Bit.ly got a lot of attention earlier this year after it deposed TinyURL as the official link shortening service for Twitter. Not willing to stand still after that victory, bit.ly announced a 'pro' version of its service late Monday. Bit.ly Pro beta gives Websites, bloggers and news organizations custom domain names that easily identify the destination of shortened links. Shortened links from The New York Times, for example, would appear as 'nyti.ms.'
Bit.ly Pro will also provide users with a publisher dashboard containing real-time statistics that refresh every 15 seconds. The dashboard contains information about their bit.ly links including click through rates, detailed traffic graphs, worldwide activity and more. Bit.ly says the publisher statistics are richer than the publicly available stats you can see by just placing a '+' sign at the end of any bit.ly link.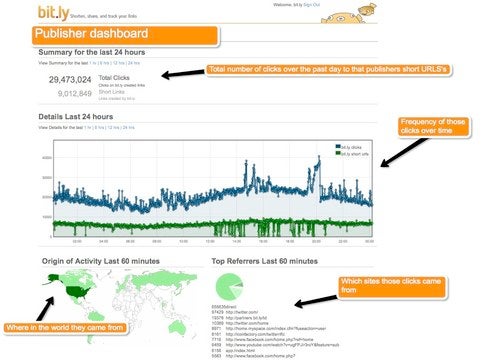 In addition to The New York Times, other participants in the bit.ly Pro beta program include AOL, The Huffington Post, MSN, The Onion, The Wall Street Journal Network and blogger Baratunde Thurston.
If you are interested in signing up for the bit.ly Pro beta program you can either fill out the application form or email bitlypro@bit.ly. A bit.ly username is required for the beta program. Bit.ly has not indicated whether it will charge a subscription fee for the bit.ly Pro service.
Goo.gl
Google has been so busy churning out new services recently like its dictionary, DNS service and improvements to Google Suggest that it's completely unsurprising to see Google come out with its own URL shortening service. However, this is not a stand-alone service like bit.ly or TinyURL. Instead, Goo.gl is for Google Toolbar and Feedburner users.
With Google Toolbar–available only for Internet Explorer and Firefox users–you can use the 'share' icon to broadcast an interesting Web page your viewing through Gmail, Twitter, Facebook, MySpace, Digg, Delicious and so on. Note that although the icons look similar, the share icon in Google Toolbar is not the same as the Shareaholic extension for Google Chrome.
Feedburner, a service that lets you analyze your Website's RSS feed traffic, launched the ability to broadcast your feed directly to Twitter. If you sign up for that service, your direct broadcasts to Twitter will use the Goo.gl shortening service. To sign up, click on your Feedburner account's Publicize tab, then select the 'Socialize' link in the left hand column and enter your Twitter account details.
Google says it may make the Goo.gl service available for more Google services in the future.
Fb.me on Facebook
Here's an interesting trick: type fb.me into your address bar and your browser will automatically redirect you to your Facebook home page. The reason you were able to do that is because Facebook has followed the path of other social networks, most notably Digg, and created its own URL shortening service.
Facebook launched the service without any fanfare, and was first uncovered by Inside Facebook on Monday. At the moment, it looks like any link you share using a mobile Facebook client will shorten a URL to FB.me, and you will also see fb.me URLs when you push out status updates or any other information from Facebook to Twitter. You can also save time by using Fb.me to get to any page on Facebook such as fb.me/PCWorld.
Link shortening services are a great idea for managing monster-sized URLs to share with others whether it's through Twitter, MySpace or any other social network. But there are annoying risks to having all these shortened URLs floating around out there. Earlier this year, the link shortening service tr.im announced it would be shutting down its service by the end of December prompting concerns that many tr.im links would simply go dead. The service quickly reopened due to public backlash, and is now in the process of converting into an open source project.
Connect with Ian on Twitter (@ianpaul).