We've been hearing about the "$100 laptop"–a no-frills, low-power portable that meets the educational needs of children in developing nations–for a few years now. But no product has materialized–at least not at the $100 price point–until now. Cherrypal has launched a $99 portable, the Cherrypal Africa, a "mini-netbook" built to bring Internet access to the world's poor.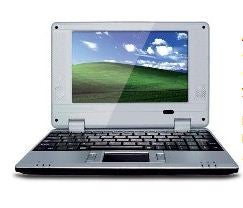 The Cherrypal Africa's specs won't impress anyone — a goes-without-saying fact the netbook's builder doesn't deny. "Make no mistake, the Cherrypal is not a fancy system. It's small, just a 7-inch screen, no thrills and admittedly not exactly fast, though good enough to browse the web," writes company founder Max Seybold on the GreenOpenFair blog.
"We here at Cherrypal decided to build a laptop for those who can't afford to spend a couple of hundred dollars," he adds. The $99 computer was named "Africa" in honor of PAAJAF, a humanitarian services group based in Ghana, West-Africa.
In addition to the 7-inch display, the Cherrypal Africa has a 400-MHz processor, 256 MB RAM, and 2 GB of flash memory. It runs either Linux or Windows CE. The netbook is available at Cherrypal's online store.
Seybold believes $99 Africa may find a niche in developed nations too. "There are still more than 15 million Americans who can't afford an own laptop, who have to go to a public library or live without access to the Internet at all, which is becoming increasingly difficult," he writes.
Cherrypal, which has offices in Palo Alto, California and Hong Kong, is part of Tristate Hong Kong Group Limited.
This isn't the first time Cherrypal has launched an ultra low-priced netbook. In July 2008, it announced the "world's cheapest laptop," the $139 Impulse NPX-9000. That price, however, was available only to volume buyers who purchased 100 or more units.
The non-profit One Laptop Per Child (OLPC) initiative also offers a no-frills mini-note. Benefactors can purchase $199 OLPC portables, which the OLPC then ships to students in developing nations.
Anyone reading this probably wouldn't want a $99 Cherrypal Africa, which sounds woefully underpowered for the types of Web tasks we take for granted. However, the mini-laptop may have a bright future in the world's less developed regions, provided it fulfills its promise as a reliable, low-end device built primarily for basic Internet access. We'll know more when we get our hands on one.
Contact Jeff Bertolucci via Twitter (@jbertolucci ) or at jbertolucci.blogspot.com.