The Federal Trade Commission filed an antitrust-related lawsuit against Intel Wednesday, accusing the chip maker of deliberately attempting hurt its competition and ultimately consumers. The landmark lawsuit alleges that Intel has deprived customers of choice by trying to slow down innovation among its rivals, and by keeping computer makers hooked with lucrative incentives for doing little business elsewhere.
To get a better handle on what's at stake for consumers, we've asked a number of semiconductor experts to forecast what the impact will be on the computer-buying public.
Why is the FTC going after Intel now?
Intel's allegedly anticompetitive practices have been in the news quite a bit lately, with "smoking gun" e-mails revealed in Europe's antitrust lawsuit against Intel, the chip-maker's settlement with underdog AMD, and New York Attorney General Andrew Cuomo's antitrust lawsuit against Intel. Dan Olds, principal analyst for the Gabriel Consulting Group, says that, against this background, it didn't look good for the FTC to sit on the sidelines, and that the commission will likely seek a fine from Intel. Jim McGregor, In-Stat's chief technology strategist, also called the lawsuit a publicity move by the government.
Have consumers been paying too much for processors?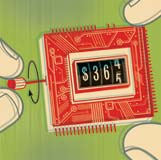 If the FTC's allegations are true, consumers actually have not been paying too much for their PCs, according to experts. Because Intel has been allegedly attempting to undercut the competition, the price of Intel PCs may have been artificially lowered.
This isn't about pricing for consumers, says Leslie Fiering, Gartner's research vice president. At issue is whether it's illegal to provide discounts and other incentives in exchange for a certain amount of business. So you could argue that Intel's practices saved end-user customers money by charging manufacturers less. Those savings were theoretically passed on to consumers.
From a macro perspective, you could argue that in the long run, Intel's alleged anticompetitive behavior could stifle the competition (AMD) and thereby allow Intel to own the PC semiconductor market and start charging much higher prices. But that scenario has not played out yet, say experts.
So what have consumers lost, superior products?
Experts say yes. In one scenario, Intel may have charged manufacturers less money for its Atom chipset with integrated graphics versus just the Atom processor alone. Integrated graphics is widely considered inferior to having a system with a dedicated video card or processors. As a result of muscling netbook makers to use Intel's integrated Atom chipset, instead of a stand-alone graphics processor, it locked out non-Intel chipmakers from netbooks.
One of those possibly hurt is nVidia with its Ion graphics mobile chip. We won't know for sure until details emerge, but nVidia may possibly have been locked out of netbooks whose manufacturers stuck millions of mininotebooks with the Atom's integrated graphics, which can't deliver high-quality video and is not adequate for graphics-heavy games.
Do consumers stand to gain better products as a result of the lawsuit?
In-Stat's McGregor says that the damage is done and that there is little hope for any drastic influx of "better" PC components as a result of this lawsuit. Taking the example of PC graphics, McGregor says that cheaper integrated graphics chipsets have quickly been putting dedicated chips out of favor. He adds that if an opportunity existed to stop Intel's alleged anticompetitive practices, that moment has already passed.
nVidia isn't so pessimistic. It applauds the FTC's lawsuit, saying that it's necessary to prevent Intel from blocking competition in the emerging GPU marketplace.
How will this case impact AMD?
The jury is split.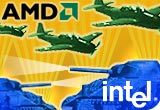 McGregor said it's too late for the feds to give AMD a boost, as the company recently settled antitrust and intellectual property lawsuits with Intel. Gartner analyst Fiering also noted that Intel's success comes partly from being a manufacturing powerhouse. AMD is divesting from chip manufacturing, and the settlement allows AMD to use any contract chip maker. In theory, this lets the company focus on innovation and product development, but that has nothing to do with the FTC's lawsuit.
PCWorld's resident chip expert, Jason Cross, says never say never when it comes to AMD. The company has very good engineers, a leadership position in graphics technology, and a huge cash infusion from the recent Intel/AMD suit settlement. Plus, AMD is quickly divesting their chip manufacturing off to GlobalFoundries, which should help prevent AMD from bleeding red ink.
How long will this case take to play out?
It could take as much as a decade for the case to be resolved. "Get comfortable," Gabriel Consulting analyst Olds advises, noting that a lawsuit by the European Union against Microsoft lasted ten years. Even a settlement, which could secure some concessions from Intel on the matter of volume discounts and incentives, would require a few years to work out. Microsoft's antitrust battle with the feds took three years to reach a settlement.
Olds adds that even though the court case could take years to settle, its impact will be felt immediately by Intel. He says that during any trial, Intel will be under close scrutiny, discouraging the chipmaker from aggressive, and allegedly illegal, business practices.
In the end, what do consumers stand to gain?
Olds and McGregor both think the suit has very little in it for consumers. Even if Intel had to make concessions on volume discounts to computer makers, chip prices, McGregor says, would still fall due to consumer expectations and competition from AMD.
Will we see more AMD systems?
McGregor says that's already happened over the last couple of years, partly because of increased scrutiny of Intel from other nations and partly because AMD has offered good prices on CPU and GPU combinations. And it's unlikely that consumers will be compensated directly as a result of the FTC's lawsuit, since fines would probably be placed in a general government fund.
The real winners, Olds says, are the lawyers, who could work on these cases for the rest of their legal careers.